A former Kansas bail bondsman was sentenced to life in prison Monday for the murder of his 7-year-old son, who, law enforcement say, was subject to abuse and starvation before his remains were fed to pigs on the family's rental property.
According to the Associated Press, 46-year-old Michael Jones won't be eligible for parole for at least 25 years. Jones pleaded guilty to first-degree murder in March for the 2015 killing of Adrian Jones.
"You do not deserve a second chance," Keiona Doctor, Adrian's 21-year-old sister, told Jones. "You do not deserve sunlight as a free man."
Jones turned his chair away from Adrian's grandmother, mother and older sister, never making eye contact with the group as they addressed the judge, AP reports.
The judge ordered Jones to spend the rest of his life on parole if he is ever released from prison. His attorney did not object to the life sentence, which prosecutors had sought.
G/O Media may get a commission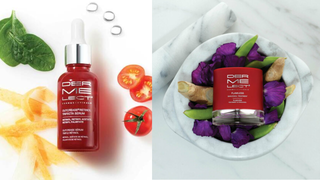 Save $19
Retinol Renewal Kit
Heather Jones, Adrian's stepmother, pleaded guilty to the same charge in November and is also serving a life sentence. She had attempted to argue that she felt helpless to protect the young boy and herself from her abusive husband, but investigators discovered that she had also abused the 7-year-old, which added another five years and eight months to her prison sentence.
Adrian died in September or October of 2015, but his death was not reported to authorities. His remains were found in November on the family's Kansas City rental property after authorities discovered that the boy was missing while they were responding to a report that Jones had attacked his wife.
During Monday's hearing, police investigator Detective Stuart Littlefield confirmed publicly that "what was left of [Adrian's body] was fed to [the] pigs." Littlefield, who fought back tears, according to the report, also asked for a 20-second moment of silence to reflect the length of time Adrian was once shocked by a stun gun during his "tortured young life."
Adrian's biological mother, Dainna Pearce, lost custody of her son and two of his siblings years ago.
"I pray you have a long, tortured life in prison," she said at Monday's hearing. "I don't know if I can forgive you, but I know you should suffer for what you did."
Pearce's mother, Judy Conway, said last week that she finally made herself look at videos and photos from the Joneses' home that detailed her grandson's abuse. She recounted how the Joneses kept Adrian naked in a shower stall that was modified so he couldn't get out. She said that sometimes they strapped the small child to an inversion table and also made him stand in a swimming pool overnight, up to his neck in stagnant water. The videos and photos also showed that Heather Jones sometimes beat Adrian with the end of a broom handle and also put alarms on the food so that he could not take any when he was hungry.
"There's no getting over it. There's no fix, there's no solution to our heartache. There is no glue for our broken hearts, no remedy for our pain," Conway said Monday, addressing Michael Jones.
Read more at the Associated Press.