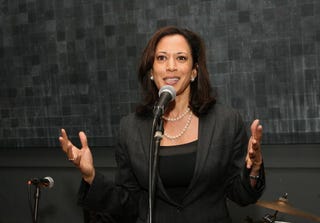 Kamala Harris is not claiming victory yet, but she says she will be California's next attorney general. The roundabout announcement comes in the wake of her opponent's announcement that he had won the very close contest. Republican Steve Cooley declared victory around 11 p.m. Tuesday, but Harris, the Democratic candidate, gradually closed the gap and took a very slim lead. By late Wednesday afternoon, she was ahead by 14,000 votes, or two-tenths of a percentage point.
"What we are declaring is our confidence in this outcome," said her campaign manager, Ace Smith. Some 400,000 ballots are still to be counted in Los Angeles County, where Harris has run strongly. Assuming the dust settles the way Harris expects, she will be the first black woman and the first South Indian to be the state's chief law-enforcement official. Harris' mother is a Tamil Indian, and her father is a Jamaican American.
Read more at this site.