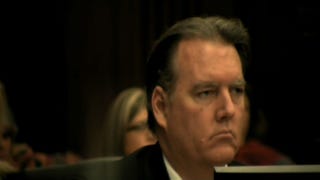 The process of retrying Michael Dunn, the 47-year-old man responsible for the death of 17-year-old Jordan Davis, in the nationally watched "loud music" murder trial started with jury selection Monday, the Los Angeles Times reports.
In February the software engineer was found guilty of three counts of attempted second-degree murder and one count of firing into a vehicle for shooting 10 rounds into an SUV filled with Jordan and his friends in November 2012. Dunn had gotten into an argument with the teens about the loud music coming from the teens' vehicle. However, the jury was hung on a charge of first-degree murder for Jordan's death. The 17-year-old was hit three times.
Dunn claimed that he shot in self-defense, saying that he saw a weapon, but no weapon was ever recovered at the scene.
According to the Los Angeles Times, a spokeswoman for the Florida Office of Criminal Conflict and Civil Regional Counsel said that jury selection could last about three days, with the trial lasting through the end of the next week.
Dunn has yet to be sentenced for his current convictions. He faces up to 75 years in prison for those crimes alone.
Read more at the Los Angeles Times.