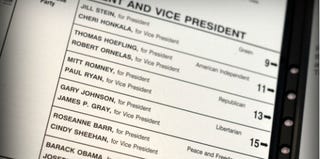 Judge blocks Birthers: Vermont Superior Court Judge Robert Bent ruled Wednesday that a suit to remove Obama from Vermont's presidential ballot in last week's election was invalid because the suit was filed in state court and not federal court. H. Brooke Paige, who unsuccessfully sought a U.S. Senate seat this year, had claimed that Obama was not a citizen because neither of his parents was a citizen. So much for that argument (until she or another Birther refiles in the correct venue).
Elmo puppeteer's accuser flip-flops on accusations: Sheldon Stephens says he was pressured into recanting the accusation that Sesame Street's Kevin Clash had an inappropriate sexual relationship with him and now wants to return the $125,000 in settlement money he received.
A $100 million lawsuit against Beyoncé: Gate Five claims that the singer broke a licensing contract in 2010 to develop a dance video game called "Starpower: Beyoncé," costing the company profits and 70 jobs.
Kenan Thompson developing new comedy for NBC: The Saturday Night Live star is reportedly teaming up with the show's creator, Lorne Michaels, to develop a yet-to-be-titled, single-camera series. Thompson will write, star in and executive-produce the comedy alongside Michaels.