As the musical director of The Late Show With Stephen Colbert, which premieres tonight, keyboardist Jon Batiste, 28, will program the music that millions will see and hear each weeknight. He comes from a musical family of note in New Orleans and has a bachelor's and a master's degree from the Juilliard Jazz program. He's been making waves around the world with his group, Stay Human, and their special brand of what Batiste calls "social music."
In this exclusive interview with The Root, Batiste shares his thoughts on Colbert, the role of music on the show and the kinds of musical guests we can expect, plus some wisdom from Paul Shaffer.
The Root: How did your selection as the musical director of The Late Show With Stephen Colbert come about?
Jon Batiste: I was on his show at Comedy Central with Stay Human in July. Then I came back for the finale, and we had conversations, following the finale, about his new show. After three or four months, he officially offered me the job.
TR: How would you describe Stephen Colbert? What's your impression of him?
JB: He's very witty and thoughtful. Also, he has an intensity that he carries onstage and off. You saw it in his [previous] character, of course: dramatically, a Republican caricature, but he's intense in a way that most people I see every day aren't. He's always thinking and working on something—it's a perfectionist kind of a thing.
G/O Media may get a commission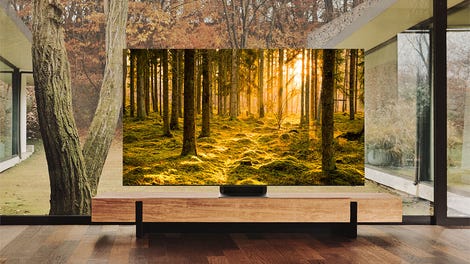 Up to 40% off
Samsung Smart TVs
TR: How do you see the role of music, generally speaking, on the show?
JB: It's the musical underpinning of a talk/comedy show. It can be accents at moments where you want to punctuate something. It can be interstitial—in between different acts. It can be used to create a mood or change the pace of the comedy. Or it can be an interjection to add some sort of unexpected flair to what is scripted. There are many different roles that I think the music can play.
Then the other part is that it'll just set a vibe in the theater from the beginning to the end.
TR: Explain the meaning behind the name of your band.
JB: The Stay Human Band is a collective of young musicians. I met a lot of these guys while I was at Juilliard. We're about bringing people together through live music. Music as a part of everyday life, music creating a spirit of community, is our main goal. We don't think about it from the perspective of how much virtuosity we can show, even though they have that ability. It's more about creating a sense of community and celebration amongst all people.
TR: What are the criteria you're using to select musical acts to perform on the show?
JB: I want the process to include the sensibilities of Stephen, who's very much about diversity and variety. I'm similar when it comes to music, the concept of social music. So I'll bring in unlikely pairings that you may not usually see on a network television program, sitting guests with the band, guests who you may be used to seeing in another context. Maybe, like, a classical musician playing with us, or maybe someone in hip-hop music, and pairing them with a jazz ensemble. I'm thinking of diversity and things that are very unique.
TR: Who are some of the musical guests in the first month?
JB: Even with the first week, the range is amazing. We have Kendrick Lamar and then Toby Keith, a country musician. I think such diversity, plus having us in the mix—our group comes from all different styles, rooted in jazz music—will create a lot of special moments.
TR: Will there be more jazz artists performing than usually appear on late-night national television since, say, the days of Johnny Carson?
JB: Oh, you can bet. I'm very, very much into the idea of bringing jazz to the forefront. Music and education in the arts is something that's missing, so I think television is a good way of educating people on different or forgotten art forms, so to speak.
TR: Have you spoken with Branford Marsalis or Robin Eubanks, both jazz musicians who were musical directors for The Tonight Show With Jay Leno?
JB: I haven't gotten a chance to speak with them. I have more of a relationship with Questlove, who's now at The Tonight Show Starring Jimmy Fallon, and with Paul Shaffer as well. But I do want to speak with Branford, who I have a relationship with, but we haven't had a chance to meet up. I want to sit down with him because he did the shortest stint as a bandleader on any of the late-night shows. He was there for four or five years and then left. I wonder what his perspective on it all was; Paul [Shaffer] was with David Letterman for 33 years. That's a big difference.
TR: Is there particular advice that Paul Shaffer or Questlove gave that you're at liberty to share?
JB: Paul said, "You always have to be on." I thought, yes, this is live television, so you have to be on. But now that we've done rehearsals and test shows, those words take on new meaning. It really is about being in the moment even more than you have to be in your everyday life, even, because it's one shot.
TR: That's right. It's live national TV.
JB: Yes. So those few words from Paul hold a lot of weight.
TR: We wish you the best, Jonathan. You're representing New Orleans, your family and jazz. Congratulations again.
JB: Absolutely. Thank you very much.
Editor's note: The Late Show With Stephen Colbert debuts Sept. 8 on CBS at 11:35 p.m. EDT.
Greg Thomas is a cultural journalist and frequent contributor to The Root. Follow him on Twitter and Facebook.