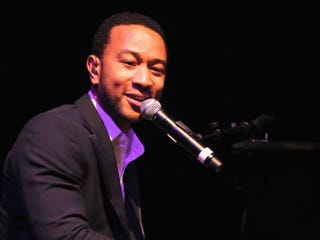 Michelle Obama travels in style: The first lady gets attention for her fashion choices wherever she goes. Check out the Washington Post's gallery of images from her trip to Africa.
Russell Simmons' prepaid card investigated: hidden fees? Simmons' prepaid Visa card is facing scrutiny from the Florida Attorney General's Office, which claims that the card may be forcing consumers to pay hidden fees each time they make a purchase.
Chris Brown taunts Odd Future on Twitter: It started when Brown tweeted what seemed like a compliment ("I f—- wit Frank Ocean! Reminds me of a young James Fauntleroy or Kevin Cossum"), and it went swiftly downhill from there.
John Legend gives Philly church surprise show: Legend, in Philadelphia for his tour with Sade, stopped by Cavalry Baptist Church in West Philadelphia to surprise parishioners with a taste of his singing and playing talents. Legend performed the song "How I Got Over," originally recorded by Aretha Franklin on her 1972 gospel album, Amazing Grace.
In other news: Good News From the Congo. Really.
Like The Root on Facebook. Follow us on Twitter.