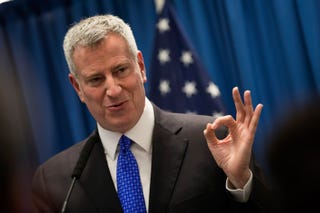 "Unjust and Unconstitutional: 60,000 Jim Crow Marijuana Arrests in Mayor de Blasio's New York," a revealing report commissioned by the Drug Policy Alliance in partnership with the Marijuana Arrest Research Project, finds that not only is Jim Crow alive and well in New York City, but city Mayor Bill de Blasio is complicit in maintaining the violent, white supremacist power structure he vowed to dismantle.
"It's essentially Jim Crow police enforcement. One set of laws for white people, one set of laws for people of color," Queens College professor Harry Levine, the author of the report, said in the Drug Policy Alliance press release.
In 2014, de Blasio ran for mayor on a progressive platform, which included reducing the so-called war on drugs that has been used as an institutionalized weapon to decimate swaths of black and brown communities.

On Nov. 10 of that year, he said the following:
There have been, in some cases, disastrous consequences for individuals and families. It hurts their chances to get a good job, to get housing. It hurts their chances to qualify for a student loan; it can literally follow them the rest of their lives.

I think the fact that you will see fewer unnecessary arrests will be good for New York City as a whole. It will be good for New Yorkers of color and young people of color—there is no question about that. We'll see how the numbers come out over time, but there's no doubt in my mind it will be a very substantial impact. And for a lot of young people it means they will not have this reality holding them back; a summons is not going to affect their future. An arrest, could. And we want to avoid that unnecessary burden.
That "unnecessary burden" has not been avoided; in fact, in the first three years of the de Blasio administration, the New York City Police Department made more than 60,000 criminal arrests for the lowest-level marijuana possession offense, according to the damning report.
Further, the NYPD has arrested black and Latino residents at astronomical rates. White people, per usual, prove that they have a monopoly on state-recognized freedom by presenting their "Get out of jail free" cards and skipping down boulevards lined with chalk outlining the bodies of our slain.
De Blasio's New York was supposed to be cleansed and sanitized of the filth that was Rudolph Giuliani, Michael Bloomberg, Ray Kelly, Bill Bratton and the state-sanctioned killers with badges they loved to protect and place on pedestals. Instead, de Blasio simply placed air freshener over the stench of decomposing dreams of justice while pointing to his brilliant, black feminist wife and accomplished children as proof that he was not like those other white men.
For those who didn't already know, "Unjust and Unconstitutional" proves that de Blasio is merely a fox among wolves, skinning and grinning for the benefit of those who want to believe that neoliberalism is the answer to the blatant, Klan-ish tactics that have become par for the course for the Republican Party.
Key findings from the report include the following:

· In the first three years of the de Blasio administration, the NYPD made over 60,000 criminal arrests for the lowest-level marijuana possession offense, an average of 20,000 marijuana arrests a year.
· The NYPD's marijuana arrests under de Blasio suffer from the same overwhelming racial disparities as under Bloomberg—about 86 percent of the arrests for marijuana possession are of blacks and Latinos.

· As in previous years, in 2016 and in the first four months of 2017, 81 percent of the people arrested for marijuana were age 16 to 34, 58 percent were 16 to 25 and 27 percent were age 16 to 20.

· Residents of New York City's public housing developments constitute the single largest group of people arrested. In 2016, NYPD housing police made 21 percent of the city's total of 18,121 arrests for marijuana possession and 92 percent of those arrested were blacks and Latinos.

· Of New York City's 76 neighborhood police precincts, 37 neighborhoods have a majority of black and Latino residents. They have about half the city's population but provide 66 percent of the marijuana possession arrests and 92 percent of the people arrested are blacks and Latinos.

· Police in New York also target neighborhoods in midtown and lower Manhattan with active nightlife. Although pedestrians in those areas are predominately white, police arrest blacks and Latinos at very high rates.

· In 2016, in Greenwich Village, 69 percent of the people arrested for marijuana possession were blacks and Latinos. In Chelsea, 77 percent were blacks and Latinos. In Soho-Tribeca-Wall Street, 73 percent were blacks and Latinos. In tourist-heavy Little Italy and Chinatown, 66 percent of the people arrested for marijuana possession were blacks and Latinos.

· In 2016, police enforcement targeted people of color, especially blacks, everywhere in New York City. In Manhattan, blacks are 13 percent of the residents but 45 percent of the people arrested for marijuana possession. In Queens, blacks are 18 percent of the residents but 49 percent of the people arrested for marijuana. And in Staten Island, blacks are 10 percent of the residents but 49 percent of the people arrested for marijuana possession.

· The rates of NYPD arrests for marijuana possession per 100,000 of the population are extremely skewed. In Queens, police arrest blacks at seven times the rate of whites. In Manhattan, they arrest blacks at 10 times the rate of whites. And in Staten Island, the NYPD arrests blacks at 15 times the rate of whites.
"New York's marijuana-arrest crusade has resulted in significant harms for those who are most vulnerable and has been used as a justification for the hyperpolicing of communities of color," said Kassandra Frederique, New York state director for the Drug Policy Alliance.
"There is no excuse for the New York City marijuana arrests to continue at this level in 2017," Frederique continued. "Mayor de Blasio pledged to end biased policing practices—if the end looks like more than 61,000 arrests on his watch and the same level of severe racial disparities, then the mayor has failed to carry out his campaign promises to black New Yorkers."

Austin Finan, de Blasio's first-deputy press secretary, told The Root that marijuana arrests have dropped 37 percent since the start of de Blasio's administration and that that should count for something.
"This administration has led a dramatic shift away from unnecessary arrests for low-level marijuana offenses in favor of summonses," Finan said. "The NYPD responds to quality-of-life offenses where and when they are observed, many of which are reported by members of the public."
Interestingly enough, the drop in marijuana arrests coincides with now-retired U.S. District Judge Shira A. Scheindlin's ruling in 2013 that the police practice of stop and frisk was unconstitutional. The drop in arrests can easily be interpreted as a by-product of the legal end of the racially discriminatory and violent policy—even if the policy still holds true in practice—rather than anything that de Blasio has done.
And even with marijuana-arrest rates down, the racial discrimination in those rates persists, as the Drug Policy Alliance's Frederique notes. Overwhelmingly, black and Latino residents are still being arrested at much higher rates than their white counterparts.
According to Peter Donald, the NYPD's assistant commissioner for communication and public information, however, it isn't that the NYPD is racist; it's that black and brown people commit more crimes and are more likely to call the police. The NYPD, God bless 'em, is just doing its job.
"Where the department makes arrests for drug activity is nearly identical to where we receive drug complaints," Donald told The Root. "That is to say [that] those who call 911 or 311 and ask for a police response, get a police response. We respond to calls for service and help the community where they are demanding it.
"I've included two heat maps below, one [on the right] which shows where the complaints are coming from," Donald continued, "and the second [on the left], that shows where we make arrests [from 2014]. As you can see, they are nearly identical."
No, in fact, they aren't identical at all—but they are extraordinarily revealing.
The "heat" is hottest in predominantly black and Latino poor and working-class areas of the city, such as Harlem and the Bronx. It appears that for almost every complaint in those areas that Donald said the maps represent, an arrest was made.
It gets really interesting in Brooklyn, one of the most gentrified areas of the United States. Where neighborhoods where black and brown people are known to reside—Bedford-Stuyvesant, Flatbush, East New York, Canarsie, et al.—arrest rates are high and seem to correspond with the alleged calls made by neighborhood residents. In neighborhoods where white people are known to reside—Bensonhurst, Bay Ridge, Fort Hamilton, Bath Beach, et al.—where calls also have allegedly been made by neighborhood residents, arrests did not follow.
It bears repeating that black and brown poor and working-class neighborhoods are becoming heavily gentrified; so it is questionable, at best, that it is black and brown people who are calling the police because people are outside smoking marijuana. More than likely, the increase in police calls is the result of gentrifiers doing the calling.
Additionally, look at Staten Island (represented by the land mass in the top left of the maps): There are almost no low-level marijuana arrests in Staten Island, according to the above "heat" maps; the whiteness of it is glaring.
Donald also made the argument that police "proactively" make arrests in neighborhoods where low-level crimes take place, but he didn't say why those neighborhoods were being hyperpoliced in the first place.
We know why, though. We've always known.
"The report says the 'Jim Crow era policies' and 'discriminatory marijuana arrests,'" Donald told The Root. "The Drug Policy Alliance report goes on to say 'strongly criticized the NYPD's racist marijuana possession arrests.'
"With what proof?" Donald continued. "How do these statements stand up to your scrutiny?"
Very well, in fact. I'm not sure what Donald hoped to accomplish by sharing these "identical" maps, but he failed miserably.
Which leads us to conviction rates. As Politico reports:

In New York City in 2016, 15.8 percent of marijuana possession cases involving white people ended in conviction and sentencing, while 32.3 percent of the cases involving black people and and 30 percent of the cases involving Hispanic people ended in conviction. Over that time, 67.4 percent of cases involving white people resulted in ACD [adjournment in contemplation of dismissal], while 56.7 percent of cases involving black people and 59.2 percent of cases involving Hispanic people ended in ACD.
The discrimination evident in arrest and conviction rates persists despite marijuana use among black and white people being roughly equal. While de Blasio's office touted the "dramatic shift" to ACD to The Root, there was no acknowledgment of the racial disparities therein.
"Unjust and Unconditional" further exposes why it is so critical that we discuss white power structures and not simply white privilege; that we expose discrimination and not simply point to disparities. This is an intentional occupation of black and brown communities; a continual profiteering from generational poverty inflicted by a white supremacist capitalist society.

This report is more evidence, as if any were needed, that slavery and, by extension, Jim Crow never ended—it was simply redesigned by shape-shifters to avoid detection.
So-called liberal white men like de Blasio can be dangerous because they appear likable and nice, with warm smiles on their faces and the expectation of gratitude in their voices. Too many people falsely believe that that niceness and politeness is substantive and progressive.
It isn't.
As "Unjust and Unconditional"—and the flimsy defense and denial offered by de Blasio's office and the NYPD—illuminates, numbers may not always tell the full story, but they don't lie.
---
Click here to read "Unjust and Unconstitutional: 60,000 Jim Crow Marijuana Arrests in Mayor de Blasio's New York."