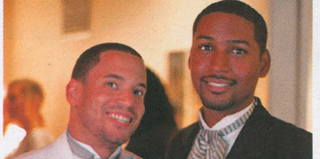 Jet magazine has been around just about forever, but the weekly African-American publication, with a circulation of more than 700,000, is proving that it has what it takes to keep up with changing times, according to Clutch magazine.
Jet's Dec. 10 issue features the Worchester, Mass., nuptials of Ravi Perry, an assistant political science professor, and Paris Prince, a licensed real estate broker and compliance officer — both of whom just happen to be men. It's the first time since the magazine's 1951 founding that the wedding section has profiled a gay male couple, and we're sure it won't be the last.
In the words of the newlyweds: "We are excited and honored to have our wedding featured in the historic yet ever-current Jet magazine. Long the hallmark in publishing news, culture and events pertaining to the black American experience, Jet's publishing of our union is historic."
Jet featured the wedding of female same-sex couple Nyema Vernon and Tenika Jackson last year.
Editor's note: The original version of this item misstated the circulation for Jet magazine.
Read more at Clutch magazine.