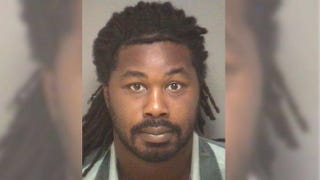 Jesse Matthew Jr. was convicted Wednesday for the murders of two Virginia college students as part of a plea deal that spared him from facing the death penalty, the Washington Post reports. 
The 33-year-old entered guilty pleas in Albemarle County court for the 2014 murder of University of Virginia student Hannah Graham and the 2009 murder of Virginia Tech student Morgan Harrington; he was sentenced to four life terms. 
According to the report, Matthew, who was charged with the disappearance and deaths of the two young women, had been facing the probability of the death penalty if he had been found guilty in the death of Graham, who was 18 at the time. 
In addition to pleading guilty to the first-degree-murder charges, Matthew pleaded guilty to abduction and intent to defile charges in both cases. The capital-murder charge he was facing was dropped as part of the deal, the Post notes. 
"He's very sorry for what happened," Matthew's lawyer, Douglas Ramseur, said. "He loves his family very much."
Albemarle County Commonwealth's Attorney Robert N. Tracci told the Post Tuesday that a plea deal had been in the works for some time and that he had personally met with the families of both victims to discuss the matter. 
"I've been in close consultation with Hannah and Morgan's parents from day one," Tracci said.
After Matthew's pleas were accepted, Sue Graham, the mother of Hannah Graham, read a statement to the court.
"[Hannah's] friends said that she would change the world, and she did, but at a terrible price," Graham said, adding that her daughter helped capture "a serial rapist and murderer hiding in plain sight. She is a heroine."
Read more at the Washington Post.