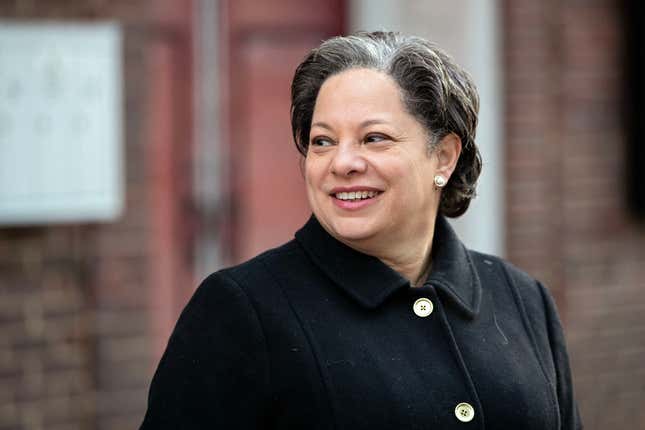 Early voting is underway in Virginia's special congressional election, and this one is definitely worth watching!
Jennifer McClellan is poised to make history next month as the first Black woman to represent Virginia in Congress. The Virginia state Senator cinched the Democratic nomination in December to fill the seat of the late Representative Donald McEachin's seat. (Rep. McEachin died in November from colon cancer.)
Her primary victory was pretty decisive. She won 85 percent of the vote, according to NPR news. The special election will be held on Feb. 21st, and McClellan is the clear favorite.
The district leans heavily Democratic, and her opponent, Republican Leon Benjamin, already lost twice to Rep. McEachin (the Representative whose passing led to the special election).
Potential history-making election aside, who exactly is McClellan?
The 49-year-old attorney has been a staple of Virginia politics since 2006, when she first entered the state legislature representing the Richmond area. Fun fact: she made an unsuccessful run for Governor in 2021, losing the Democratic primary to Terry McAuliffe.
She's been a fierce advocate for abortion rights, spearheading efforts to pass Virginia's Reproductive Health Protection Act in 2021 — making Virginia the first southern state "to proactively expand abortion rights."
In an op-ed in the Richmond Times-Dispatch, McClellan called out Republican efforts in Virginia to encroach on the hard-won abortion rights in the state.
"Virginia is a safe haven for abortion in the South — and it must remain that way. We must all make our voices heard — to elected leaders and through voting — in order to protect reproductive rights for generations to come," wrote McClellan.
Abortion isn't the only issue on McClellan's radar. In 2021, McClellan introduced SB 1395, also known as the Voting Rights Act of Virginia, which sought to prohibit "discrimination in voting and elections administration." (Northam signed the law in March of 2021 making Virginia the first southern state to enact its own voting rights act.)
Ironically, her opponent Leon Benjamin is a 2020 election truther.
When asked why voters should elect her, McClellan had this to say to MSNBC host Jonathan Capehart:
"I have spent 17 years working to help the people of central Virginia. Most of the major issues passed in the 2021 and 2022 sessions I carried," McClellan told Capehart. "I'm going to bring the same passion to helping people and solving problems to congress."