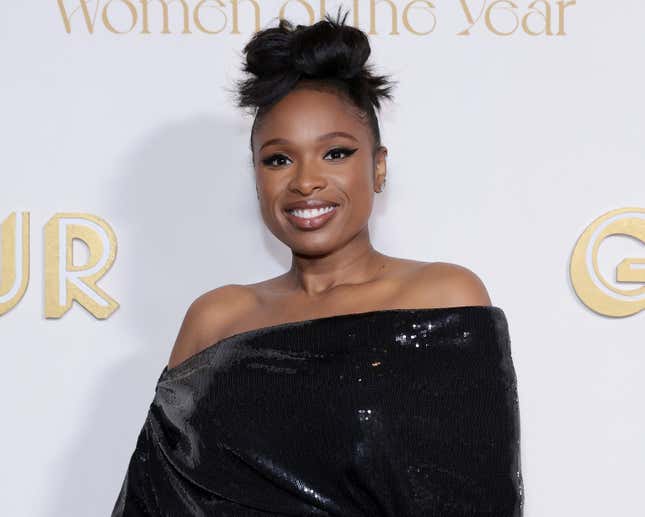 The romance rumors swirling around Jennifer Hudson and Common are not going away, they're getting louder. In recent months, the EGOT winner and the rapper/actor have been asked about their relationship, with both professing their admiration for one another without actually denying anything. On Monday, the talk show host once again found herself in the hot seat when TMZ broached the subject outside Il Pastaio restaurant in Beverly Hills, Calif. When asked if she could confirm that they were dating, she continued their streak of vague non-denials.
The Top 5 Rappers Of All Time According To Stephen A. Smith
"Rumors say a lot of things," Hudson said. "But he's a beautiful man, I will give you that. That's for certain."
The "Spotlight" singer was also asked about a possible musical collaboration between the two Chicago natives and she remained non-committal. "I don't know. It'd be dope to see two Chicagoans together, but I don't know about that," she said. Whether they're dating or not, the world absolutely needs a JHud/Common collab. Frankly, it's disrespectful for them to not give us one.
The romance rumors started after they co-starred in the sci-fi film Breathe, where they play husband and wife in a post-apocalyptic world. They were seen having dinner together on several occasions, which obviously means they're a couple and not just friends who enjoy each other's company. Back in September, Jennifer told Entertainment Tonight, "People create their narratives of it and it's like, 'Okay, you know, how you feel.' We shot a film together and he played my husband. We gotta eat in between those moments."
While appearing on the Today Show in June, the Silo star was asked about the rumors and called the Oscar winner "beautiful" while not confirming or denying a romance between the two.
"I've always been inspired by her," he said. "She's one of the most beautiful people I ever met on the planet. Incredible heart, and she's just dope, man."
We all know that if Jennifer Hudson and Common wanted to squash these persistent rumors, they could with a simple denial. However, they've managed to keep us talking as they make the rounds promoting new projects and honestly, I can't be mad at how they've navigated this situation.