In September 2017, Attorney General Jeff Sessions decided that under his leadership, the U.S. Department of Justice would focus more on bolstering police morale than it would on correcting issues in problem police departments. To that end, the DOJ ended an effort put in place by the Obama administration to investigate and publicize police department shortcomings.
As a result, 14 police departments nationwide that had either received reports from the DOJ's Office of Community Oriented Policing Services or were waiting to receive reports were left dangling in the wind. COPS also made reform recommendations to troubled departments and provided guidance and technical support.
One such department was the San Francisco Police Department. After a six-month investigation of the SFPD in 2016, COPS found disparities in traffic stops, post-stop searches and use of deadly force against African Americans, as well as implicit and institutionalized bias against minority groups.
COPS released its findings in a 432-page report and made nearly 300 recommendations for reform, which it would have overseen if not for Sessions' ending of the program.
G/O Media may get a commission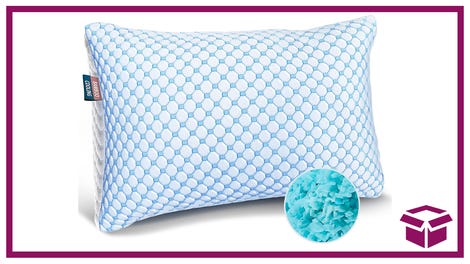 23% off
Nestl Cooling Pillow - Queen Size
In the absence of DOJ oversight, the California Department of Justice announced Monday that it will oversee the efforts of SFPD to implement the reforms suggested by COPS, Mother Jones reports.
At a press conference, San Francisco's interim Mayor Mark Farrell said, "We made a promise to our residents and to our communities that we were going to transform our Police Department—and partnering with [California] Attorney General [Xavier] Becerra will allow us to follow through on that pledge."
The COPS investigation of SFPD was prompted by the shooting death of Mario Woods at the hands of San Francisco police in December 2015. The investigation looked into six areas, identified 94 findings and provided 272 recommendations for improvement within the Police Department. The investigation found serious deficiencies in the way the department collects, maintains and analyzes data related to officer use of force. In addition, COPS suggested that the use-of-force policies in place for the department were out-of-date.
Mother Jones reports that current San Francisco Police Chief William Scott said the department has already made progress on more than half of the recommended changes, including banning officers from shooting at moving vehicles and approving a plan to equip police with Tasers. The state will now evaluate the department's progress and issue regular public reports.
And that's all anyone wants, right? Police accountability is important. Police should not be able to act with impunity. They should not be able to operate like armed gangs. They should be called out when they do wrong.
I'm proud of my home state for taking this on.
Other states should follow suit.