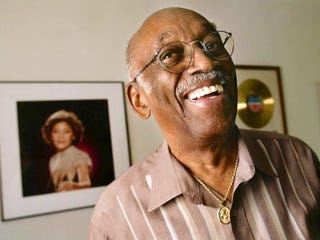 Less than three months before his 100th birthday, John Levy, the first prominent African-American personal manager in the jazz or pop music field and a recipient of the nation's highest jazz honor, has died. 
The Washington Post reports:
An accomplished bassist, the New Orleans-born Levy performed with such jazz greats as Stuff Smith, Billie Holiday, Erroll Garner and Billy Taylor in the 1940s before joining pianist George Shearing's original quintet. In the early 1950s, he became Shearing's full-time manager and later went on to form his own management agency, John Levy Enterprises Inc.
Levy's client roster over the years included more than 85 artists, including Wilson, Lewis, Nat and Cannonball Adderley, Betty Carter, Roberta Flack, Herbie Hancock, Shirley Horn, Freddie Hubbard, Ahmad Jamal and Abbey Lincoln as well as comedian Arsenio Hall.
In 2006, the National Endowment for the Arts recognized Levy as a Jazz Master, the nation's highest jazz honor.
Read more at the Washington Post.
Like The Root on Facebook. Follow us on Twitter.