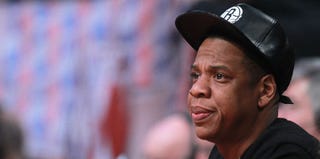 It's not as if he needs a side job to pay the bills, but rapper, entrepreneur and professional sports team part owner Jay-Z has taken on yet another venture: His Roc Nation entertainment company is launching Roc Nation Sports, a sports-management company that is partnering with another leading agency, Creative Artists, to represent New York Yankees player Robinson Cano. Guess they call him a mogul for a reason.
From CNN:
This is not Jay-Z's first foray into sports. He is a minority owner of the National Basketball Association's Brooklyn Nets, which moved from New Jersey to the new Barclays Center arena in his native borough this season.

"Because of my love of sports, it was a natural progression to form a company where we can help top athletes … the same way we have been helping artists in the music industry for years," said Jay-Z in a statement. He is also known as a huge Yankees fan, having performed at Yankee Stadium before one of their 2009 World Series games.

This is an unusual setback for Cano's former agent, Scott Boras, who has a reputation as one of the toughest agents in sports, and typically gets top dollar for his clients. A woman in Boras' office said he did not yet have a statement on Cano's move.
Read more at CNN.