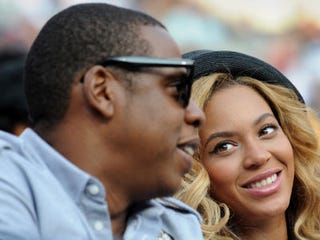 Jay-Z releases song dedicated to baby: "Glory" celebrates the birth of his daughter with Beyoncé, Blue Ivy Carter, and reveals that the couple struggled to conceive. "Last time the miscarriage was so tragic, we was afraid you disappeared," he raps midway through the song. Listen here.
Why do rappers love suicide doors? Slate's L.V. Anderson explains what they are and why everyone from Chris Brown to Kanye is so fascinated with them.
Oprah tweets support for Gayle: She sent out some support for her BFF's CBS debut, tweeting, "Morning tweeps..I'm up early to watch CBS morning news. Gayles debut. 4 25 years she watched my show while working out, now I will."
Is the Arab Spring good or bad for the U.S.? In the last of a six-part series on the upheavals changing the Middle East, NPR's Deborah Amos looks at what they all mean for America.