President Donald Trump didn't have much to say to rapper Eminem, who has been excoriating him on wax (wait—do people even say "wax" anymore?) who has been ethering him in the cloud for a minute, but, again, Trump hasn't responded.

But perhaps because it is rumored that the current POTUS only watches television, he did respond to rapper Jay-Z's recent commentary about him, which took place on cable news network CNN.


On Saturday night, Shawn "Jay-Z" Carter sat down with Van Jones for the premiere of The Van Jones Show.
A very mature-looking (and sounding) Jigga sat down with Jones, and he not only went in on the president's recent "shithole" comments, which denigrated an entire continent, but also discussed his marriage to Beyoncé, the #MeToo movement, being a father three times over, and his newfound activism around mass incarceration in particular.
G/O Media may get a commission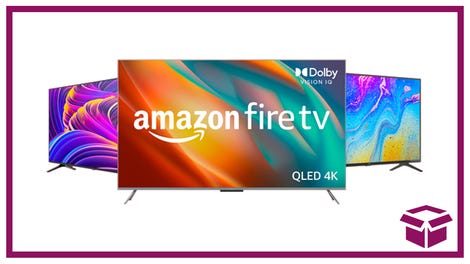 Ooh. stunning.
New Amazon Fire TVs
When Jones asked Jay about the shithole commentary, Jay responded very soberly that the comments made by the president were "hurtful." He then called the president a "superbug":
Yes, it's disappointing and hurtful. It is hurtful, more so. Everyone feels anger. After the anger, it's really hurtful because he's like looking down on a whole population of people.

You are so misinformed because these places have beautiful people and beautiful everything. It's just this is the leader of the free world speaking like this. But on the other side, this has been going on.

This is how people talk. This is how they talk behind closed doors. It was a moment when Donald Sterling had been exposed as this racist on a private phone conversation that he was having.

It's like, "OK, that's one way to do it." Another way would have been to have his team and let's talk about it together and let's—maybe some penalties because once you do that, all of the other closet racists just run back in the hole.

You haven't fixed anything. You have sprayed perfume on the trash can. What you do, when you do that is the bugs come and you spray something and you create a superbug because you don't take care of the problem.

You don't take the trash out; you keep spraying whatever over it to make it acceptable. As those things grow, you create a superbug. And then now we have Donald Trump, the superbug.
He then equivocated a bit, adding, "Donald Trump is a human being, too. ... I'm being funny; I say that, too. Somewhere along his lineage, something happened to him. Something happened to him, and he is in pain and he is expressing it this sort of way."
Trump responded Sunday morning with the following: "Somebody please inform Jay-Z that because of my policies, Black Unemployment has just been reported to be at the LOWEST RATE EVER RECORDED!"

Maybe.
CNN actually fact-checked that stat, and though Trump is technically right, the black unemployment rate remains about twice the rate for white people, what CNN called an "enduring feature of the American labor market."

Why? Scholars attribute the disparity to a combination of factors: hiring discrimination, lower educational attainment and a higher rate of people with criminal records, who are barred from many occupations.
So ain't nothing really change, but cute talking point, Donnie.

Jay-Z also spoke on his marriage to Beyoncé: "For us, we chose to fight for our love. For our family. To give our kids a different outcome. You see, to break that cycle for black men and women. To see a different outcome. Like you were saying, it's not this celebrity couple … we were never a 'celebrity couple,' we were a couple that happened to be celebrities. We are real people."
The #MeToo movement: "It's almost like we normalized it. The normalization of the things we have to do to survive. For women to go to work knowing that this sort of abuse was happening every day, you can look logically and say, 'Why would you stay there?' What is the alternative? What is the alternative? You have to survive in America. In order to survive you have to normalize it. So, this has been going on. … So for it to get uncovered and the world to correct itself, this is what has to happen."
His love for Colin Kaepernick:
And words I never thought I would hear from his hypercapitalist mouth: "Money doesn't equate to happiness."
OK! We like this new thoughtful, expansive, in-touch-with-his-feelings Jay-Z.