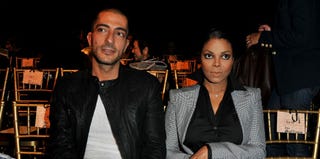 Janet Jackson is engaged to billionaire Qatari businessman Wissam Al Mana. According to Us Weekly, the couple are planning a spring wedding, and Al Mana may have asked the American pop star for her hand months ago but kept their news a secret.
"I'm fortunate enough to be dating my dream woman," Al Mana, 37, told the magazine last November.

"I'm getting older and I feel more settled," Jackson agreed. "We have a deep bond, a deep connection."

The 46-year-old singer and her beau, who plan to tie the knot in Qatar next spring, first fell in love in the summer of 2010, when the pair took a trip to Sardinia that included swims at the hotel pool, three yacht trips and several dinners in their premium suite …

Al Mana's father is the founder and owner of the Almana Group, a Qatar-based luxury lifestyle enterprise that works with companies in industries as diverse as luxury cars and food services.

The wealthy businessman currently heads the family business' fashion portfolios.
Read more at Us Weekly.