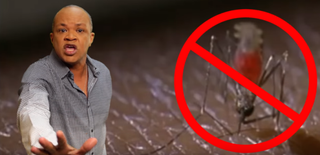 One Jamaican doctor is using a rather unorthodox way to educate the public about the Zika virus, which is currently spreading through the Caribbean and Latin America, BBC World News reports: through a dancehall-style song.
Gynecologist Dr. Michael Abrahams produced the YouTube video "We Nuh Want Zik V" in hopes of appealing to as wide an audience as possible to get his message across. Jamaica's minister of health had approached Abrahams about the project after seeing his previous work in a hilarious video about the side effects of Chikungunya virus, which ravaged the country a little over a year ago.
This new song cautions to "mek sure say no stagnant water in sight and mash up all mosquito breeding site," along with other useful tips to help reduce the risk of attracting the pesky disease carriers. 
"It's really to make people aware that it's out there and that we need to protect ourselves," Abrahams told the BBC. Although Jamaica has not yet been widely affected, the Caribbean island has confirmed its first case of Zika, according to the news site.
Watch the video below:
Listen to more at the BBC.