The New York Post reports that Ja Rule turned himself in at a Manhattan courthouse yesterday afternoon and will now begin a two-year prison term on gun charges:
Ja Rule had been busted in 2007, when cops searched his Maybach as he left a concert at the Upper West Side's Beacon Theatre, seizing a 40-cal unlicensed handgun found inside.
In today's plea, Ja Rule admitted that he had "dominion and control" over the gun.
"He admits that the gun was in the vehicle owned by his company, and that therefore it was in a vehicle under his control," said his lawyer, Stacey Richman.
Complicating matters was the microscopic amount of the rapper's DNA was swabbed off the gun, according to Assistant district attorney Joan Illuzzi-Orbon — making it a difficult possession case to take before a jury
Had Ja Rule gone to trial and been convicted of the top charge against him, outright criminal possession, he faced a mandatory minimum of 3 1/2 years prison.
G/O Media may get a commission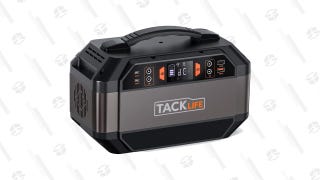 Tacklife Portable Solar Generator
Richman had argued that the DNA sample was too small to reliably test — and that the several cells swabbed off the gun could have been transferred there indirectly, without Ja Rule having actually handled the gun.
The sentencing set off a conversation about the merits of the gun-control legislation that landed the rapper behind bars. "This gun law has done nothing to fight the blight of gun violence in our city. Gun violence will always be a problem because we have failed to educate our youth in all communities of the dangers of guns. The guns are still there," his attorney argued.
Meanwhile, Manhattan District Attorney Cyrus Vance celebrated the result, saying, "Whether you are a Grammy-nominated musician or a teenager carrying a gun for a friend, justice is blind. This sentence should put all illegal-gun owners in New York on notice."
But Ja Rule declined to weigh in on the policy issues raised by his case. According to the Post, he signed autographs in the hallway outside the courtroom and bid a temporary farewell to family and fans with "See you in 18" (referring to his likely actual time behind bars, with good behavior) and "One love."
Read more at the New York Post.
In other news: Static: Black Comic Character Returns.