It's one day a year, within the one month of the year dedicated to honoring and uplifting women in what is still very much a man's world. Women's voices may be more prominent than ever before in history, but equality is not an option without allyship, which is why we're checking to see which retailers are truly checking for us this International Women's Day.
Call it savvy marketing, but men's clothing retailer Bonobos seems to be doing the work, both within and on the face of its brand. Last summer, they asked their followers to #EvolvetheDefinition, joining men's brands like Axe, Dove Men, and soon after, Gillette in ramping up difficult but much-needed conversations about how toxic masculinity is dysfunctional for everyone.
Now, the brand is celebrating Women's History Month with their first-ever capsule collection for women and a series of short films that speak honestly to what gender equality really means. (Spoiler alert: Men needn't feel threatened, because equality never means oppression.)
G/O Media may get a commission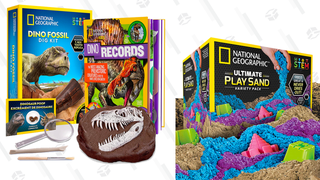 Up to 33% off
National Geographic Science and Activity Kits
Shoutout to Essence Beauty & Fashion Director Julee Wilson (above left and below) for lending her voice and visage to the conversation. But extra shoutouts are due the Bonobos team, who bolstered their campaign by partnering with gender equality organization Promundo to conduct a national survey. Released on International Women's Day, the study addresses "our misperceptions about gender equality and the actionable steps everyone can take to fight for more inclusive, diverse, and fair future for all," according to a statement.
The company published its results in a male allyship guide which helps give clearer meaning to what gender equality truly is, suggestions on how men willing to help can best go about it, and how, despite the efforts of many women and men, we still have a long way to go.
Other brands doing their part to stay on the right side of history this International Women's Day?
Know more brands who deserve support for supporting gender equality around the world? Drop their names in the comments. Happy International Women's Day!