Once Donald Trump got into office (with fewer votes than Hillary Clinton) and threw the country into chaos, suddenly Americans started paying attention to elections. The pundits were obsessed with the Virginia gubernatorial elections, the resistance was all over the Jon Ossoff special election in Georgia, and everyone who had a teenage daughter cared about the Alabama special election. But no election caught the attention of black America more than the mayoral runoff between Democrat Keisha Lance Bottoms and Republican Mary Norwood in Atlanta in December.

It was as if a call went out to every black pundit, politician and activist that the black community was not about to let Atlanta end up in the hands of an unseasoned Trump-adjacent Republican like Norwood. Lance Bottoms won by 821 votes out of over 100,000 cast, the "Atlanta got a mayor named Keisha" meme went viral, and black folks were so happy, you'd think Michelle Obama had just tweeted, "I'm running."
Mayor Lance Bottoms just wrapped up her first 100 days in office in May, and The Root spoke to her about leading America's black mecca, criminal-justice reform and what makes her one of the most honest politicians I've ever interviewed.
The Root: Your first 100 days in office have been busy. Talk about some of the big decisions you've made as mayor, ending cash bail and replacing much of the administration. What was that like?
Keisha Lance Bottoms: I really listened to what people said over the course of our very long campaign. The biggest takeaway was, for all of the prosperity in our city, many communities are feeling left behind. Their noses are pressed up against the windowpane looking at the city's success, but they can't get in. So I wanted to address that.
G/O Media may get a commission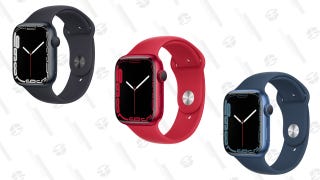 Up To $45 Off
Apple Watch Series 7
TR: So how did that play out in something like ending cash bail? [Editor's note: The mayor passed an ordinance eliminating cash-bail requirements for minor nonviolent offenses. In many cases the inability to pay a $500 bond for public drunkenness could result in a week's jail time.]
KLB: You have to look around the country. Sens. Cory Booker [N.J.] and Kamala Harris [Calif.] came to Atlanta during the campaign, and they both championed criminal-justice reform. Listening to the leaders of our progressive community, we needed to look at cash-bail bonds and how they disproportionately affect poor people in the city. It was an issue that I knew needed to be tackled immediately.
TR: You also laid off just about everybody in City Hall in your first 100 days. Were you afraid that there would be retribution, that people would get mad or try to get back at you for that kind of bold move?
KLB: To the extent I had any fear was that I would fail the city. There's always apprehension and anxiety at the moment I made the decision to take the resignations. I share that with you because there really was no playbook about how I went about it—I did what I said I was gonna do. I probably knew on day two that I needed to make those changes; that's where intuition comes in. I just needed to take a little longer. Many of these people [resignations] are very talented and helpful for an experienced mayor. But not necessarily for a new mayor.
TR: Let's talk about the governor's race. On the Democratic side, you endorsed Stacey Evans, correct? [Editor's note: Stacey Evans lost to Stacey Abrams, the first black woman to win a governor's nod in Georgia, during last month's Democratic primary.]
KLB: I did not offer an endorsement of Stacey Evans. Stacey Evans gave an endorsement to me during the mayor's race. But I did not offer her an endorsement. I've known her for years and supported her, but no formal endorsement. Look, we had two incredibly strong, brilliant women, both of whom would be great nominees for the party. But as I had commented on the front end, I would be supportive of whoever the nominee was. Obviously, I hoped Stacey Abrams wins!
TR: What about your future? Let's imagine it's eight years from now: Atlanta is super successful, you managed to bring the World Cup to the city or something. What's next for you? Do you envision higher office or have national aspirations?

KLB: What I can say is right now, I'm in a position and a place that I've never dreamed of for myself. God dreams these dreams way before we form them in our minds. So whether it be running for another office or running a nonprofit or CEO of a corporation or whatever it is. You stay ready—you don't have to get ready. Right now the focus is on being the best mayor so that Atlanta is the greatest city that it can be. It's about making these decisions for the next generation. Then we'll see where God sees me next.
TR: That is the most honest answer I think I've ever heard a politician give. Most try to pretend like they have no vision beyond their current office.
KLB: Well, thank you. I just want to be the best mayor now, but who knows down the road?
TR: Are there any things you've thought about racially that matter to you as an African-American woman that you really want to put into play or act upon now that you're mayor?
KLB: I think what I'm really sensitive to now is how much people are looking to Atlanta for leadership. I grew up here, spent my life here, so I didn't always know what Atlanta meant to people all over the country. It was like during the election, people were counting on us to get it right. It's really a big responsibility. It's an honor that Atlanta is seen in this light, and it's a blessing to be mayor in this city.
TR: That's true. Here at The Root, we can write about politics in New York, Houston, Chicago, even Los Angeles, but when we write about Atlanta, it always blows up.
KLB: It blows me away, and I tell you I woke up one day [during the campaign] and there was an Instagram post from Common, and Gabrielle Union and Killer Mike, and that was just this moment where I was like, this moment is way bigger than me, way bigger than Atlanta. And I think it's a reflection of how we feel about Trump, and it was like, we are not going to get this wrong again; 832 votes out of almost 100,000 was the difference in the race.
TR: That's true. Your margin of victory was almost the same as the margin that Tishaura Jones lost the mayor's race by in St. Louis, even though St. Louis is probably a third the size of Atlanta.
KLB: Yes, I spoke to Tishaura; she's great. We had the same challenges that she did. She posted during our election saying, "Don't make the same mistakes we made here." And I appreciate that and being the beneficiary of people recognizing where other cities have not gotten it right, and we got it right.
Everybody had said Atlanta had seen its last African-American mayor. We [the Lance Bottoms campaign] weren't the chosen one, but we did it. It really speaks to what can happen when people engage. And the difference that it can make, I hope we can remember this as we got to vote in November.