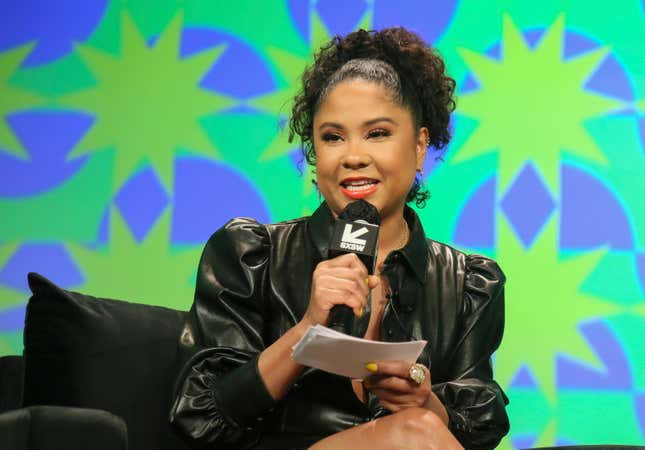 Updated Wednesday, Aug. 10, 2022 at 8:23 a.m.
The Breakfast Club, iHeart Media's long-running and popular morning radio show isn't going anywhere, but one of the show's three hosts definitely is.

Angela Yee, who has co-hosted the Breakfast Club alongside Charlamagne Tha God (real name Lenard McKelvey) and DJ Envy (real name Raashaun Casey, announced Wednesday morning that she was leaving the show to host her own radio show this fall.
"I am going to be leaving the Breakfast Club. It'll be a different iteration of the Breakfast Club, but I will have my own daily show," Yee said.
"It is really exciting, I honestly can't believe this is happening," Yee said details of her new show, such as what time it will air, the start date and how many markets it will be syndicated to aren't yet finalized. She didn't give a date for her last Breakfast Club broadcast.
Yee's blew up Twitter with speculation about her departure with two cryptic tweets late Tuesday. "God is good," she wrote in the first before dropping this: "The breakfast club as you know it is officially over."
It wasn't clear exactly what that meant. Neither of her co-hosts had responded from their individual social media accounts overnight, nor was there any word from the show's official Twitter page. At the top of the show's 8 a.m. hour, Yee said she needed to wait until a press release was issued before making an announcement.
On Wednesday morning, the three hosts turned speculation over Yee's departure into a bit. In the 7 o'clock hour, they discussed Serena Williams' Vogue essay about "evolving" away from tennis, asking listeners to call in to answer a question: "When do you know it's time to walk away?" Charlamagne then asked Yee to answer the same question, to which she responded, "Right now." But she didn't give any details, despite her co-hosts, protesting that they had no idea what was going on.
The Breakfast Club has been on the air since 2010; the show is broadcast live from New York's Power 105.1 and syndicated and streamed through that station's parent company, iHeart Media. iHeart announced in late 2020 that Charlamagne had signed a new five-year deal to continue as host of the show and to become the company's senior creative officer of culture content and programming, a role in which he was to scout new talent, develop programming and oversee community initiatives. His deal also included the launch of the Black Effect Podcast Network, a platform for podcasters targeted at Black audiences.

In a May appearance on the Earn Your Leisure podcast, Yee appeared to drop that she was already working on the show without being under contract.
"Actually, my contract is up now," she said. "It's been up since December."
All three of the show's hosts have been moving their brands in different directions in recent years. In addition to his expanded iHeart deal, Charlamagne also hosts "The God's Honest Truth" on Comedy Central. DJ Envy is a real estate investor who hosts seminars on his strategies around the country, and Yee hosts "Lip Service", a podcast about sex and relationships distributed by Apple Podcasts.