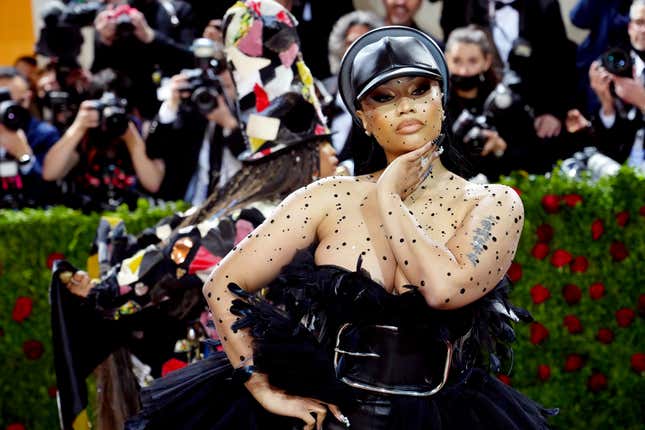 Updated as 6/23/2023 at 1:30p.m. PT:
In what can only be described as "WTF News," it appears the so-called petition to get rapper Nicki Minaj and husband Kenneth Petty out of their Hidden Hills home in California was a fraud.
FX On Hulu's Kindred Star, Mallori Johnson, Plays That's So Random
This news comes as TMZ verified the validity of the petition, only to find out that it was created by a fan of Cardi B. who wanted to add more to the riff between the two rappers. This was proven by a tweet from a fan who admitted to going under a false name to create the petition, citing the fact that as "anti Nickis"—they could "hurt her assets in the process" by attempting to get her kicked out of her home.
See original story below.
Despite the fact that Nicki Minaj and her husband Kenneth Petty bought their Hidden Hills home back in December 2022, it looks like their tranquil living could be in jeopardy thanks to a phony neighborhood petition.
In response to Petty's status as a registered sex offender in the state of New York, and his address change to his new Los Angeles home on the Megan's Law website, one neighbor began a "Say No to Sex Offenders in Hidden Hills" petition not too long after they moved in. Citing concerns over property value and safety, the document received more than 100 signatures over the last several days, boosting the overall number to nearly 1,000, as reported by TMZ on Thursday.
Petty is currently serving one year of home detention for failing to register as a sex offender in California. Neither he nor his wife have responded to the petition.
Neighborhood quarrels aside, Petty definitely has more important things to worry about. As previously reported by The Root, in December 2022, a judge ordered him to settle the harassment suit brought against him by Jennifer Hough—the woman he was accused of sexually assaulting back in 1994—referring that the case go to mediation so both teams can reach a settlement. However, he didn't seem to be interested in finalizing things in a swift enough manner so now Hough's legal team is seeking to implement a scheduling order so that negotiations can resume.
"We are counsel to Plaintiff Jennifer Hough in the above-referenced matter. I write jointly with counsel for Defendant Kenneth Petty," Hough's lawyer Tyrpne Blackburn wrote in his letter to the judge at the time. "As you know, the Court provided the parties with an opportunity to engage in private mediation. The parties participated in private mediation, but unfortunately, we were unable to reach a settlement. We would like to have a scheduling conference with the court to set a scheduling order."