In the late '80s and early '90s, a wave of commercial hip-hop artists, like Public Enemy, Poor Righteous Teachers, Brand Nubian, Eric B. & Rakim, Paris, Gang Starr, Ice Cube and MC Ren, used their platform to promote political awareness, community uplift and cultural self-determination. They drew their inspiration in part from Islam—as culture, ideology and religion—influenced primarily by the Nation of Islam and its offshoot the Nation of Gods and Earths, or Five Percenters.
As movements, both the NOI and NGE actively engaged hip-hop artists and the communities in which the artists and their audiences lived. The NOI organized anti-crime patrols, established drug-prevention programs and negotiated gang truces. The NGE's cipher gatherings rewarded those most skilled in wordplay. The theologies of the NOI, and the NGE in particular, proclaimed the black man "God," and while contested by other Muslim traditions, this fit perfectly within the hip-hop tradition of the superlative boast (who, after all, could top God) and placed black men at the center of hip-hop's universe.
Today hip-hop is whiter, with a white, blond Australian woman topping the charts. And while the occasional reference to the NOI or NGE may turn up in a song, neither group is as prominent in the culture or community as it used to be. These days, there are more n-words than gods in hip-hop's lyrical universe.
But if Jay Electronica has his way, this will change.
Last Saturday at the 10th annual Brooklyn Hip-Hop Festival, the rapper delivered a rare and much-buzzed-about live performance featuring several guests, like Mac Miller, J. Cole, Talib Kweli and, most notably, Jay Z. Less discussed, but no less visible, was the phalanx of the NOI's Fruit of Islam guards flanking Electronica as he arrived to the festival before posting onstage during the performance. Electronica himself was in full FOI uniform, with the NOI flag embroidered on its shoulders and the initials of NOI founder W. Fard Muhammad sewn onto its lapel.
G/O Media may get a commission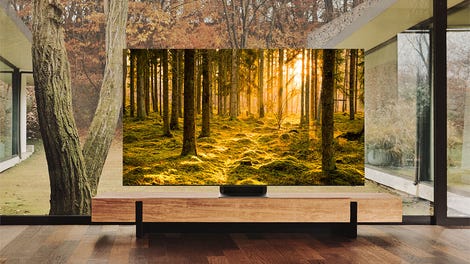 Up to 40% off
Samsung Smart TVs
For Electronica, the NOI is much more than stage props or costumes: He has sampled Elijah Muhammad on his tracks; and in his freestyle remix of Drake's "We Made It" with Jay Z, he declares the Muslim "shahada"—the testimony of faith that "there is no god but Allah"—in Arabic and proclaims himself "the Farrakhan of rap." In the days since his performance, Electronica has tweeted and Facebooked even more references to the NOI and its leadership. He's clearly committed to asserting the presence of the NOI and NGE more broadly in hip-hop music and culture.
And he's not alone in this NOI revival in hip-hop, and in black culture more broadly. Earlier this year, R&B artist Raheem DeVaughn collaborated with Chicago rapper Rhymefest to release "Final Call (Saviours' Day)." The song's title references both the NOI's annual Saviours' Day convention and its Final Call newspaper, sold by the FOI, who are also featured prominently in the music video.
The Fruit of Islam seem well suited for this role. When Jay Elect stepped to the stage with FOI in tow, he seemed to be channeling a moment from 25 years ago when Public Enemy took to the streets of Brooklyn, also with FOI, to film the Spike Lee-directed video for their anthem, "Fight the Power." More than an entourage, the FOI's militarylike presence conveys a charismatic power onto whomever they secure, a level of real-world seriousness: "They treated him like he was Barack Obama," remarked one observer of the FOI guarding Jay Z at the festival.
With their clean-shaven appearance, dark suits, white shirts and bow ties with matching pocket squares, the FOI project a particular kind of black male cool, which remains one of the most valuable commodities in hip-hop culture. And unlike other expressions of black male cool, this one is difficult to appropriate outside the black community. White rapper Macklemore in a suit and bow tie would be, well, Macklemore dressed for prom.
The central role of the FOI in this redemption of hip-hop signals how much this is not just about race and religion but also about gender. An uncritical reconstruction of masculinity, however, runs the risk of appealing to patriarchy and homophobia as expedient building blocks. While it is still unclear if and how Jay Electronica will go about his project, NGE Lord Jamar's recent attempts to police Kanye West's fashion choices reflect that narrow definitions of gender and masculinity are still part of the toolbox. An NOI/NGE revival in hip-hop, then, renews important questions about gender and sexuality—questions that went largely unaddressed during hip-hop's "golden age" but deserve greater examination today, in part because of the greater involvement and prominence of women and LGBTQ artists and activists in hip-hop.
At a time when so much of commercial hip-hop is mired in excessive consumerism, crass sexuality and degrading references to both men and women, a revival of the best of hip-hop's past would be a welcome counterpoint. If artists like Electronica, DeVaughn and Rhymefest are successful, they will have revived a historical relationship that the NOI and NGE have had with hip-hop since its earliest days. A renewal that avoids repeating some of the errors of that past could very well mean a new era of consciousness in commercial hip-hop. And it will be Nation time again.
Zaheer Ali is a Ph.D. student in U.S. history at Columbia University, and a lecturer in black studies at the City College of New York. His research focuses on African-American history and religion, and he has taught classes on Islam in the African-American experience. Follow him on Twitter.