In a blog entry at Clutch magazine, Jayne Dirt checks in on blacks America's obsession with designer bags and shoes while living a single paycheck above the poverty line. She wonders how much hip-hop is to blame.
I enjoy my fair share of hip-hop just like anyone else (well that's not entirely true, let me stop lying). Nevertheless, is it just me, or have some artists gone too far with their message of rampant consumerism? While I am not one to bash the whole genre and blame rap music for the demise of an entire generation, I do believe that at some point, as informed consumers we have to stop and ask ourselves, "What the f*ck did he/she just say and how does that ish really pertain to me?" I don't know about you, but I don't "ball so hard" and the ish that I particularly find cray is five-dollar gas prices.
If you didn't notice by my references, the latest rappers to perturb me are Kanye West and Jay Z.
I may be one of the only people who did not purchase, or listen to every song off of the Watch The Throne album. But the two that I have heard — OTIS and the infamous, too often recited N*ggas in Paris — make me want to throw up in my mouth. After barely getting through both songs in their entirety, I thought my head was going to rupture, and I wouldn't be able to afford my subsequent melt down with the exorbitant cost of health care.
In fact, I kinda find some of this music to be in bad taste, considering the real economic conditions of some of the most ardent Hip-Hop followers. These guys have the problems of the 1%, with concerns such as "spilling ace of spades" on a pair of Jordans. A $1200 bottle of champagne, that cost more than most folks' rent or mortgage. I'm just saying, the least of the 99% concerns are "Audemars that don't tick tock" (which can cost as much as $500,000). The sad part is that some of us can recall these lyrics more than we can the debtors we owe.
G/O Media may get a commission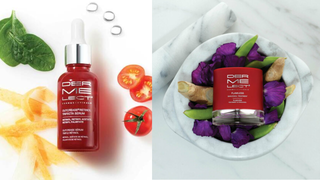 Save $19
Retinol Renewal Kit
Read Jayne Dirt's entire blog entry at Clutch magazine.