If you're convicted after spending a reported $30 million on legal fees to keep from going to jail, it makes sense to go all in and take your case all the way up to the Supreme Court. It paid off for Jeffrey Skilling, who prevailed in challenging the constitutionality of the legal doctrine used to convict him in Houston for his role in the collapse of energy giant Enron. A unanimous court led by Justice Ruth Bader Ginsburg (pdf) held that the federal statute criminalizing "honest services fraud" was meant to target the receipt of bribes and kickbacks. The government's theory — that Skilling violated the statute by misrepresenting the financial health of Enron to shareholders — falls outside the scope of conduct that Congress intended to reach in enacting the statute. The Supreme Court chose not to overturn his conviction, but punted the case back to a lower court to determine whether Skilling should go free.
Most interesting, of course, was the Supreme Court's treatment of Jeffrey Skilling's "Scottsboro Boys" defense, in which the former CEO claims that he was convicted in what amounted to a mob atmosphere in Houston. A little background: In 1932's Powell v. Alabama, the Supreme Court overturned the conviction of several young black men who were falsely accused of raping two white women on a train, in part on the grounds that the mob atmosphere during the trial had denied the black defendants due process. Seventy-eight years later, Skilling made a similar argument in his case, charging that the inflamed passions of jurors in Houston, where the Enron implosion decimated the pension funds of scores of Houstonians, had been stoked by portrayals of him in the media as guilty until proven innocent. Skilling argued that the judge had presided over a hasty and unfair process of juror voir dire, and had allowed several jurors with dubious claims to impartiality to serve.
It was a nervy argument to make. Jeffrey Skilling is not the image that comes to mind when most of us think about trial by mob. But you don't get to be CEO of one of the largest corporations in the United States without having some chutzpah, and Skilling's lawyers pressed this argument to some sympathetic ears at oral argument before the Supreme Court.
Although a majority of the court ultimately rejected Skilling's argument that his Sixth Amendment right to an impartial jury had been violated, Justice Sonia Sotomayor, in a concurring opinion joined by Justices Stephen Breyer and the soon-to-depart John Paul Stevens, found that the judge did not properly ensure that Skilling faced an unbiased jury. On that basis alone, she would have granted Skilling a new trial. It was clear from oral argument in the case that Sotomayor was concerned about the juror-bias claim in Skilling's case. She expressed open incredulity that the juror voir dire had lasted only five hours (pdf).
Anyone who thinks it's not important to include former trial judges on the Supreme Court (and not just the usual lineup of former federal appellate judges) should read Sotomayor's point-by-point critique of the trial judge's voir dire in Skilling — a voir dire she found rife with "deficiencies in form and content." Her dismantling of the trial judge's supervision of jury selection in the case may well become a kind of voir dire checklist for federal trial judges presiding over a high-profile criminal case in the future. After carefully reviewing the record, Sotomayor ultimately deems it "highly likely that at least some of the seated jurors harbored … biases that a more probing inquiry would likely have exposed."
G/O Media may get a commission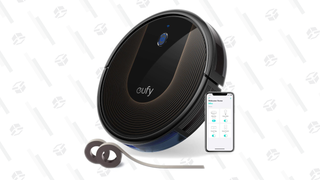 48% Off
Eufy BoostIQ RoboVac
In some ways, Sotomayor's dissent is a bit tough to take. There's something very 21st century and a little too post-racial about Jeffrey Skilling as the latest "Scottsboro Boy." But fair is fair. And even millionaires are entitled to an unbiased jury. It's more important that Sotomayor has laid out clear direction to trial judges who should more aggressively safeguard the impartiality of the criminal tribunal for defendants, most of whom will not have $30 million at their disposal for their defense, and whose cases will likely never be heard by the Supreme Court.
Perhaps that's what is most disturbing about this case: that the Supreme Court agreed to hear it at all. The court takes fewer and fewer cases each year, and if it wanted to address the vagueness of the "honest services fraud" statute, it could have done so through the other case it decided that day, in which it vacated a conviction under that statute. But during the same term that the court decided to hear Skilling's case, it turned down Carruth v. Alabama, a case challenging the Alabama state court's determination that death row inmates have no right to counsel in cases they directly appeal to the Alabama Supreme Court. In 2008 the court refused to hear Barbour v. Haley, in which 40 indigent Alabama death row inmates challenged the state's failure to afford a right to counsel for death row prisoners in post-conviction review cases. What makes Skilling's challenge to the fairness of his trial more urgent than these?
Still, it's refreshing to read in Sotomayor's Skilling dissent an opinion that is filled with a practical, real-world assessment of what bias looks like, and the rigor it takes to uncover juror bias. Sotomayor, in this sense, brings a breath of fresh, trial-experienced air to a Supreme Court that too often ignores the significance of inferences and common sense in its naive search for the inevitable missing "smoking gun."
Sherrilyn Ifill teaches at the University of Maryland and writes about the law for The Root.