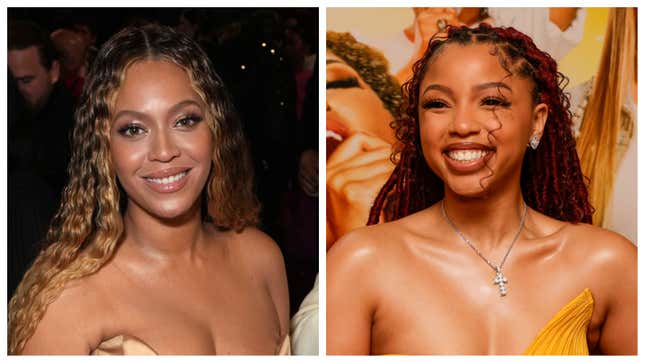 Praise This star Chlöe Bailey finally released her long-awaited debut album, In Pieces, to the world. Yet despite heavy promo, and singles featuring popular artists such as Chris Brown, Future, and Missy Elliot, the album debuted at No. 119 on this week's Billboard 200 and only sold 10,000 copies during its first week (per Chart Data). As a result, the release has been met with subsequent criticism—particularly as it concerns her mentor, Beyoncé. Both Chlöe and her sister, Halle, are signed to Bey's label and management company Parkwood, and many online are pointing to it and its owner's lack of support as the reason for the poor performance of the "Have Mercy" singer's album.
Music Producer & Beyoncé Collaborator, Dixson, Plays That's So Random
"Not to be funny, but I really wanna know what was the point of Beyoncé signing Chloe?" one user wrote. "Like was it for a look? So that someone can be under her? I don't get it, cause how do you let your artist drop an album & you don't support it not once & now she sold 10k."
"Beyoncé nasty for not promoting Chloe's album a simple IG repost would've probably gave Chloe a top 50 debut," another said. "Mind you if this was Nicki's artist, they would've dragged her to hell and back."
"Nah Beyonce could've at least posted Chloe Bailey album on her story I mean ain't that your artist?????" said another.
Aside from Queen Bey, many people have also proposed that the album's poor performance may be due to the fact that the songs are far away from the original sound Chloe and her sister came out with when they first arrived on the music scene. With a myriad of sexy performances she's delivered over the last couple of years and sensual covers she's posted on Instagram, some feel as if she's leaning too much into the sex appeal of it all and not what naturally makes her standout (a.k.a. her fire-ass vocals.) Others have also argued that the album may have been tainted by Chloe's recent collaboration with Chris Brown for her single, "How Does It Feel?"
Despite all the negativity, Chloe herself doesn't seem too phased by any of the chatter. In fact, on Tuesday night, which was also the opening night of her In Pieces Tour, the "Treat Me" singer took the time to address the criticism. In a video posted to Twitter, she can be heard thanking the crowd for coming out to support her before ending with a message directed to the critics:
"Fuck what the fuck everybody got to fucking say and they can kiss my Black ass," she said. "Because I know you guys love me."