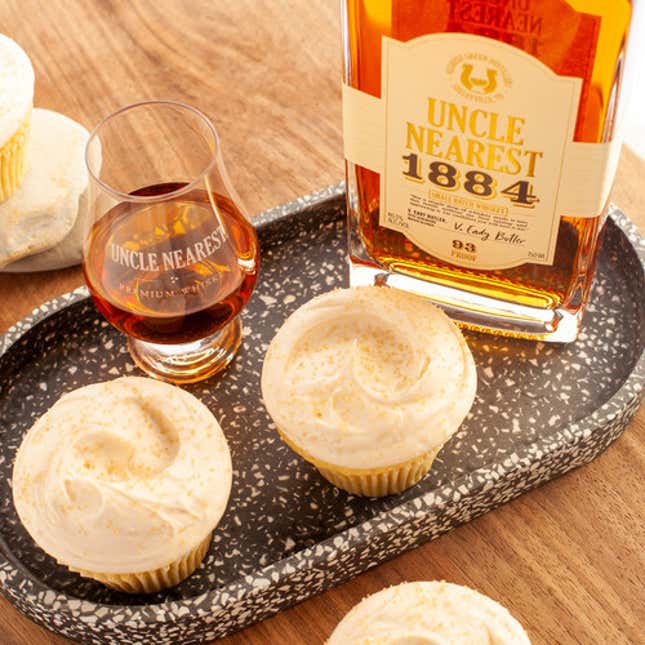 Two woman-owned and founded companies, Uncle Nearest and SusieCakes, have joined forces to raise money for historically Black colleges and universities during Black History Month as a part of Uncle Nearest's #HBCUChallenge.

Comedian London Hughes Talks New Book, Parents Watching Her Very Sexual Comedy, & Beyoncé
The Root sat down with the Chief Business Officer of Uncle Nearest, Katharine Jerkins, and CEO of Susie Cakes, Susan Sarich, to learn more about the whiskey and baked dessert collaboration.
How the collaboration came to be
The idea of the collaboration first came together in 2021. Fawn Weaver, the CEO and Founder of Black-owned whiskey company Uncle Nearest, has traditionally ordered SusieCakes treats for important events in her life, and so have her employees. So combining two of life's best treats—cake and alcohol—seemed like a natural next step. Weaver sent whiskey to SusieCakes and, with the help of the company's executive baker, the ideas soon started to flow. The two businesses landed on creating a delectable vanilla cupcake with whiskey-infused buttercream. Sarich said she was overjoyed to work on a project with a fellow woman-run business. "One of the values of our company is 'We are good neighbors,' so we're very involved in our communities and that is usually around female empowerment," she noted. "I've always been a fan girl of Fawn and so as it all came together, it just made perfect sense."
The cupcakes are sold individually and in packages of 4-12 cupcakes and a portion of the sales go straight to the #HBCUChallenge. As of Valentine's week, over 10,000 of the collaboration cupcakes were sold, contributing to thousands of dollars in the donation fund.
The inspiration for the challenge
When Deion Sanders took his football expertise to HBCU Jackson State University in 2020, folks at Uncle Nearest also got inspired to give back. Jerkins credited Amazon Prime Video's Coach Prime, a docuseries following Sanders' career at Jackson State, as a way of bringing light to the legacy of HBCUs.  "Coach Prime showed people the potential of HBCUs and what they bring to the community," Jerkins said. "You start to dig into HBCUs and you see the caliber of doctors and lawyers; you look at our government right now. It's filled with these amazing graduates." Despite their successes, the schools that cultivated their successes are all too often underfunded.
Uncle Nearest aims to raise one million dollars for historically Black colleges and universities starting with Black History Month, February 1, 2023, and ending with Women's History Month, or March 31, 2023. The top 58 ranked HBCUs will be receive donations; 10% of the total donation pool will go to number one-ranked HBCU, Spelman College.
Other ways to raise money for HBCUs

Although the cupcakes will only be sold through the end of February, the Uncle Nearest #HBCUChallenge will continue through March, and there are a few more ways that the fastest-growing American whiskey company is raising money. For every Old Fashioned cocktail featuring Uncle Nearest sold at bars and restaurants, bottle of whiskey sold online or in stores, or Black History merchandise purchased on their website, Uncle Nearest will make a donation. There will also be a social media photo challenge.
Currently more than $400,000 has been raised through the #HBCUChallenge to improve and sustain the education of Black students across the country. For more information, visit unclenearest.com.