File this under "Our messed-up justice system just righted an incredible wrong": A man who spent 20 years behind bars for a gas station shooting he didn't commit was freed Tuesday by a Los Angeles County judge.
Marco Contreras, 41, was convicted in 1997 of attempted robbery and attempted murder for a 1996 shooting at a Compton, Calif., gas station and sentenced to life in prison, the Los Angeles Times reports.
Contreras, who always maintained his innocence, walked out of a downtown L.A. courtroom a free man, and the Times reports that he had a message for those who may be in the same position.
"Keep fighting," Contreras said in Spanish. "Be patient and keep fighting."
Last week, Superior Court Judge William Ryan ruled that Contreras was factually innocent, and the district attorney's office agreed with that ruling.
G/O Media may get a commission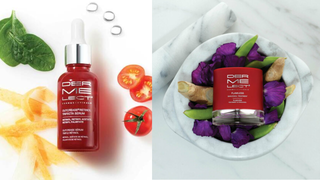 Save $19
Retinol Renewal Kit
Deputy District Attorney Bobby Grace told the Times on Tuesday that his office had lost faith in Contreras' conviction, and added that other men had been arrested in connection with the crime.
On Thursday, attempted murder and conspiracy charges were filed against Antonio Salgado, 41; Antonio Garcia, 61; and Ricardo Valencia, 46. The Times reports that both Garcia and Valencia pleaded not guilty on Monday, and Salgado has not been arraigned yet.
Adam Grant, one of Contreras' attorneys, told the Times that his client's case is an example of the dangers and unreliability of witness misidentification.
"This is a huge problem," Grant said. "It's a thorny problem because the public considers it reliable."
From the Times:
Loyola Law School's Project for the Innocent began looking into the case in 2012 after a law school graduate put them in touch with Contreras' family. During their investigation, lawyers and students found new evidence, including a striking physical similarity between Contreras and Salgado. The team of attorneys then presented its findings to the district attorney's conviction review unit—a crew of prosecutors and investigators dedicated to overturning wrongful convictions—which conducted its own investigation, along with sheriff's investigators, into the shooting.
According to the Times, this is the second big reversal handled by the DA's conviction-review unit; last year Raymond Lee Jennings was also declared factually innocent by Judge Ryan in the 2000 slaying of a college student in a Palmdale, Calif., parking lot.
At the end of his hearing Tuesday, Contreras addressed Ryan directly.
"I'd like to thank you for allowing me to be here," he said. "Also the DA—I'd like to say thank you to everybody."
The main thing on his mind when leaving the court was a craving for good Mexican food.
Read more at the Los Angeles Times.