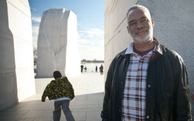 Danita Ladson, Federal Civil Servant  
"[On MLK Day, I plan to] take the time out to review some of the historical documents that Dr. Martin Luther King wrote and presented so I can continue to remember what he has done for where we are today."
Kevin Hill, 46, Federal Employee  
"[King represents] hope. Hope for a better future. That's what I strive for and teach my children."
David Bertuca, Librarian
"[MLK would think that the U.S. of 2012] still needs work, but he was an optimistic person. His optimism would probably show from that."
Ralph, Retired*  
"I don't know who's most in need of [King's message today] … The Republicans! When you think about the political dialogue in the country — it has moved so far to the right. A monument like this almost seems like it's anachronistic."
*Ralph declined to give his last name. 
Moe, 27, Military*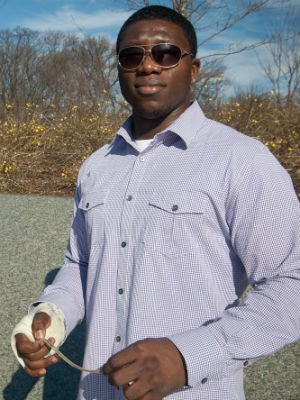 "We're now in 2012. There's a black man in office. Everything that he fought for is now being realized for everyone … [His message is] that you can overcome. You don't have to be a brute to get things done … I'm a military man. If more leaders of the world thought like he did, more innocent people wouldn't be dying."
*Moe declined to give his last name.
John J. Williams, 52, Special Education Teacher
"He wasn't just passing through the night. He had a great influence. Right now I'm just feeling chills just being among his presence. I've been on the Mall, in the nation's Capitol buildings, and very seldom do we see a monument honoring a black person. So it's just a joy to be here. A historic moment for me. This is my first time being here with the school on a field trip. It's a pleasure to be here."
Marlene Kerry, 60, Public Housing Administrator  
"Dr. King represents freedom for me. I was born in '52, and through his struggle I was able to attend Strom Thurman High School in Edgefield County, S.C. Integration was a major thing. So I was the only African American in homeroom class from my freshmen to my senior year. And the transition was very difficult for me."
Jayna Jones, 28, Business Development Specialist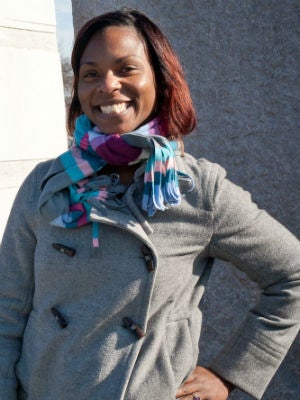 "Right now I think the children are in need of Dr. King's message. I think [his message] has been put aside. So many children know his name, but they don't really know what he did to bring us to where we are now."
Edco Bailey, Retired Hospital Chaplain  
"Personally, [King's dream] means an awful lot. His view of justice and the way you go about it has brought a lot of equality to me and my family." 
Karen Farmer, 44, Consultant
"For my husband and I, [the memorial] is very significant because he stood for diversity and equality. And my child won't know any of this unless we instill the importance of diverse culture — thought, mind, religion, all that — in him. And that's why we're [at the memorial], just to honor him." 
Katlane, 21, South African Student*  
"I'm still learning about him, but so far [I know] that he fought for freedom and all that."
*Katlane declined to give her last name.