St. Louis, Thurs., Oct. 9: Late Thursday night, interactions between police officers and protesters in St. Louis' Shaw neighborhood escalated, hours after more than 100 people gathered to attend a prayer vigil for Vonderitt Myers Jr., the 18-year-old who was shot and killed Wednesday night by an off-duty police officer who was working as a security guard.
Beyoncé's Feminist Anthem "Run the World (Girls)" A Decade Later
During the prayer vigil, different members of the clergy prayed for unity in the community and stressed the need to direct the community's frustration over the shooting into a constructive response.
It was a sentiment echoed by Myers' uncle, Jackie Williams, who spoke at the vigil and said, "I'm hoping something positive can come out of this chaos. We want people to stop killing our children," adding, "They washed his blood away, but they can't wash away what happened."
As the sun set, protesters held signs that read "Send That Killer Cop to Jail" and "We Are M.A.S.K. [Mothers Against Senseless Killings]." Broken glass covered the streets where some enraged protesters had burned the American flag, slammed into police vans and shouted profanities to vent their frustrations. Officers, many in riot gear, responded by using pepper spray on the crowd.
G/O Media may get a commission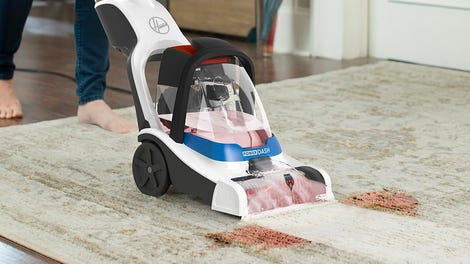 26% Off
Hoover PowerDash Pet Compact Carpet Cleaner
And with all this, Myers' family, friends and neighbors still don't have complete answers to why the officer in question decided to chase three young men, including Myers, in the incident that led to his shooting.
Lynn Hunter, 53, who has lived in the neighborhood for 29 years, told The Root, "The officer was hired to cover Flora [Place], and he was blocks away from his post, near the market on Shaw [Boulevard] and Klemm [Street]." She added, "There is no reason he should have been shot at 16 times, like an animal. I don't trust the cops at all."
Chief Sam Dotson of the St. Louis Metropolitan Police Department described the events leading up to the shooting during a press briefing. He began the account by stating that the officer who shot Myers, a six-year veteran, encountered three men who fled after he spotted them. He then chased them, and as he caught up, he got into a physical altercation with one of the suspects, described as a black male wearing a gray hooded sweatshirt. Dotson said that the suspect fired at least three rounds at the police officer, who returned fire, fatally shooting Myers. He also said that a 9mm Ruger was found at the scene.
However, the St. Louis Post-Dispatch reports that "a police source told the Post-Dispatch that the gun Myers fired at the officer was a 9mm Smith & Wesson."
In addition, surveillance footage from Shaw Market, where Myers purchased a sandwich and soda before the shooting, shows him wearing a black, short-sleeved T-shirt. According to Dotson's press conference, the suspect was wearing a gray hooded sweatshirt that came off during the altercation with the officer.
According to Berhe Beyent, the manager of Shaw Market, Myers "was wearing a shirt that stopped right at the top of his pants." Beyent told The Root, "It would have been difficult for him to conceal a weapon with the clothes he had on, and I didn't see a gun."
Neighbors, family members and friends feel that racial profiling played a part in the officer's suspicion of the three, demonstrated by the subsequent chase and confrontation.
At the vigil, Pastor Willie Kilpatrick of Prince of Peace Missionary Baptist Church told the crowd, "Now we're facing a situation once again in our city, a life wrongfully taken. We're calling on the mayor of St. Louis and the Police Department to do their job and give us an opportunity to tell our side of the story.
"We have one agenda," he said, "and that's justice."