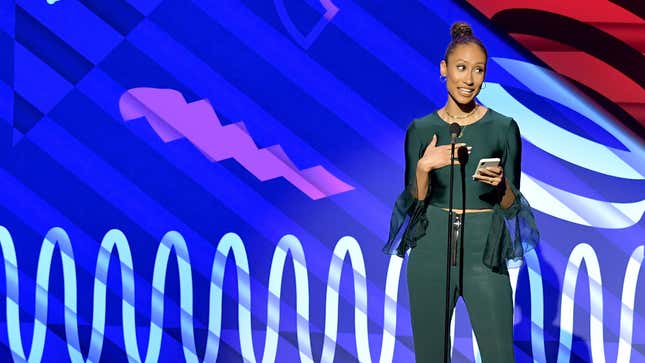 Behind every black woman's success story is generally a well-developed talent for code-switching and at least one person (often, far more than one) who questions her right to succeed. As Elaine Welteroth recounts in her new memoir, More Than Enough, she experienced plenty of both while building her reputation as one of the most influential editors in the game (and note: Welteroth is currently only 32 years old).
Fighting "Lie-abetes": How To Spot And Combat Disinformation and Conspiracies In Politics | The 411: Part 2
In an excerpt in Medium's new publication for women of color, Zora, Welteroth reveals that behind the enviable style and cultural cachet she's become known for were some deeply telling moments, starting with when she wasn't recognized as the boss at one of her first meetings as editor-in-chief of Teen Vogue. And then, there was her triumphant first pitch meeting with Black-ish creator Kenya Barris, a success that was almost immediately marred by a white colleague's insecurities, as Welteroth recounted:
"This is your ticket. I saw it in their eyes," she said. "They would do anything to support you. It's just, that would never happen for a White girl like me."

I was so taken aback and confused that I asked her to come again. ... In that moment I felt as though her comment had just reduced all the years of hard work I invested into building my career from scratch — and this early success in my new role that directly benefited both of us — to the color of my skin. As if she had not benefited from her fair share of race-based privilege in America throughout her entire life. As if Black people in leadership positions aren't almost always the only ones of color in decision-making rooms, working twice as hard to overcome the cultural bias that cannot be stripped from any interaction in the business world or otherwise in this country. As if I had not had to work twice as hard for the equal respect throughout my life.
It's a scenario likely familiar to any person of color who has found success in a predominantly white field. But where Welteroth found community—and due credit—was among fellow groundbreakers like marketing maven Bozoma Saint John, who helped her understand the power, support and rarely afforded access blacks in leadership can truly offer each other.
"Girl, this is what White men have been doing on the golf course for decades," Saint John (fondly called "Boz") quipped to Welteroth at the time. Fast friends, Welteroth's recollections of the two women's early encounters also drive home why the proverbial "seat at the table" is so vital for execs of color.
[Boz] and her number two, also a Black woman, reacted positively and bolstered my ideas in the meeting. They spoke without code switching, centering our voices in a way I had never seen play out in a business setting. These were subtle gestures that redirected the power dynamics in the room.
It's the kind of scenario we idealize when lobbying for more "diversity and inclusion" among our cultural and corporate decision-makers. But Welteroth's revelations also reveal the double standard confronting black people who function from a place of privilege—the "survivor's guilt," if you will, of being able to conduct business on a level previously exclusive to our white counterparts, as Welteroth explores.
When we operate the way White power has operated for generations by opening doors for our own, is it considered nepotism? Or is it just leveling the playing field?
...
With these decision-­making seats, diverse leaders — like us — have an opportunity to level the playing field in a world that has for generations been rigged by the dominant power structure, which, at least until the norms change, is indisputably wealthy, White, and male.
With systemic issues of class, education and access still major barriers to black upward mobility, the concept "leveling the playing field" immediately begs the question, "For whom?" But what is undeniable is that when it comes to finding talent of color qualified to disrupt the status quo as a new type of decision-maker, to echo Welteroth, we have more than enough.