Every time I've been in a room with Misty Copeland, she has made it a point to acknowledge black women.
I'm not referring to a warm smile, a greeting, or even the timeless black folk head-nod (y'all know what I'm talking about)—though I'd guess Copeland certainly does that, too. Beyond saying "hello," she makes it a point to verbally recognize black women and inserts us into conversations where our presence is often forgotten.
Monday morning was no different, as Copeland appeared at an intimate brunch kicking-off her third Under Armour collection.
At the launch, she talked about her high-waisted pants, the importance of being fierce and strong, and naturally, the inspiration for her new designs. But notably, the history-making ballerina spoke about being black.
"There's no way not to," Misty Copeland told The Root about her decision to use her platform to acknowledge black women.
G/O Media may get a commission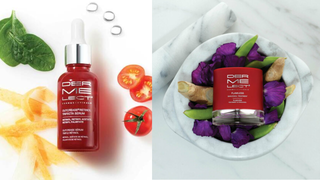 Save $19
Retinol Renewal Kit
Copeland, who was born to a black and Italian mother and a black and German father, got a clear message growing up: You're black. Copeland attributed the notion that she's unequivocally black to her mother. "She kind of ingrained in all of us like, it didn't matter what you look like, you're black." The ballerina continued, recounting her mother's words, "That's how you're going to be seen and treated."
This clear understanding of her roots has helped Misty Copeland—who in 2015 became the first black principal ballerina at the American Ballet Theater—thrive. "I think that's why I've been able to survive in the way I have as a black woman in this very insular, white calcified world."
And her mother was correct: Misty Copeland is a black woman in a very white world of ballet. Her blackness shows.
Once, Copeland was asked to lighten her skin for what are called 'white ballets,' or ballet blanc.
"It's been something that's just been a part of the history of ballet," she explained. "It's not an unusual thing to be asked to make your skin lighter." The principal ballerina revealed that in particular sections of a ballet like Swan Lake or Giselle, you're supposed to appear "otherworldly," like a ghost.
Copeland added, "Ballet insiders have said, 'We don't want your skin to look human—we don't want your skin to look shiny,'" to which the ballerina has responded, "Ok cool, let me just put on my color powder and be a brown ghost."
During her launch, she also took a moment to acknowledge trailblazers like Raven Wilkinson, who was one of the first black ballerinas to dance in a major dance company, Ballet Russe de Monte Carlo, as well as Arthur Mitchell of the Dance Theater of Harlem. Both passed away in 2018. Now Copeland feels a sense of urgency and speaks these black trailblazers' truth to power.
"I just want to be able to get as much information as I can to be able to tell our stories as black dancers," she says. Copeland wants to change the "Whole narrative, changing the messaging and this stigma that's attached to ballet."
Whether Misty realizes it or not, acknowledging black people in these narrow spaces does just that.