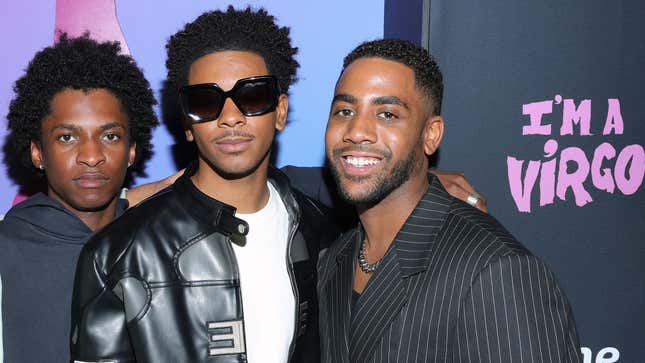 In Boots Riley's newest "mythical odyssey" series, I'm A Virgo, Emmy award-winning actor Jharrel Jerome stars as Cootie, a 13-foot tall Black man living In Oakland, Calif.
The Legendary Pam Grier Plays That's So Random
Over the course of seven episodes, we watch as Cootie—who's been shielded from the outside world by his parents (played by Carmen Ejogo and Mike Epps)—befriends a group of young political activists (played by Kara Young, Brett Gray, and Allius Barnes) and discover all the complexities life has to offer such as: love (thanks to a budding relationship with food service worker Flora, played by Olivia Washington), building community, using your influence for good, the fine line between being a hero and a villain, and capitalism.
The latter point specifically serves as an underbelly to the series' mostly eccentric and comical storytelling. However, no matter how out-of-the-box, the creative methods were, Jerome explained to The Root that he hopes it drives more serious and productive conversations amongst viewers.
"For the sake of Boots and where he lays his creative energy, the one thing to take away from this is his conversation about capitalism. If you watch Sorry to Bother You, if you listen to all his music, he's always got a well-written story that falls under the umbrella of what capitalism does to the people of this country," Jerome said. "And so I think, oftentimes, when we talk capitalism, that's boring. The second you hear that word, you think politics. And when you talk politics, its like, 'Ugh.' But Boots has a way of bringing characters that are full of color and full of range and that are exciting. So I think after this, just having those conversations and seeing what that is from a different perspective."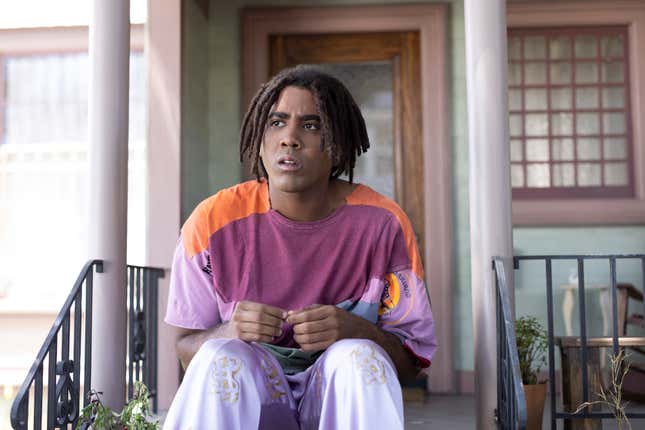 For Barnes and Gray, they shared how the unique way of filming with Riley made for a "challenging" yet fun experience, where filming scenes were just as unpredictable as trying to guess what happens next in each episode.

"The most memorable scene to shoot was probably when we were at the club, when we took Cootie to the club for the first time. We were shooting pool in the back. Everybody was freestyling," Barnes explained. "That's in my memory forever, that was a fun day. But the most challenging had to have been the sequence with Scat and Felix."
Added Gray, "I forgot about the club scene, that was day one on set! I think that was the first scene we shot, of the whole season. We were exactly that in the back, freestyling, making beats, playing pool. That was amazing. We really hit it off. I also really liked the scene where we're like flipping over in the car. That was really cool.
"But yeah, the Felix/Scat sequence was really, really challenging for me. There were beautiful moments in that too, [when] the car door wouldn't open—they ended up keeping that whole moment and that was totally not planned. I think the shot we see, is exactly something going wrong and Boots was like, 'Everybody shut up! Keep going!' [laughs].
"So there were so many amazing, challenging moments on set but Allius is such an incredible artist, everybody is such incredible artists from the top all the way down. Even the challenges were really more like puzzles to solve," he concluded."
All seven episodes of I'm A Virgo are available to stream now on Prime Video.