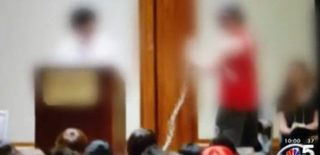 Barrington High School in Illinois is apologizing after two students performed a skit on Friday at the 2016 Illinois Junior Classical Convention, depicting a slave auction, NBC Chicago reports. 
The two students at Barrington performed the skit during the "roll call," in which each school participating in the competition displayed their knowledge of Greek and Roman cultures, sent up representatives to introduce the school. 
In the skit one of the students had a chain around his neck, as his schoolmate tried to "sell" him. 
"Today we are going to have a Barrington bro for sale," one of the students was recorded saying.
The school left some outraged, according to NBC Chiago. 
"Watching a live slave auction, complete with chains, it was a bit much. It was overwhelming," Kenwood Academy parent Danielle McDaniels, who was watching in the audience, told the station. 
After the skit, the teacher who coached the students apologized during the convention. 
"I am truly, truly sorry," the teacher said. 
"Barrington School District offers sincere apologies to those offended by the actions of our high school students participating in the Illinois Junior Classical Convention this weekend. We understand the concern and are reviewing the incident with students and staff who were involved," Barrington School District responded in a written statement after the outcries. 
A student at Barrington who was involved also apologized the next day for the skit .
Read more at NBC Chicago.