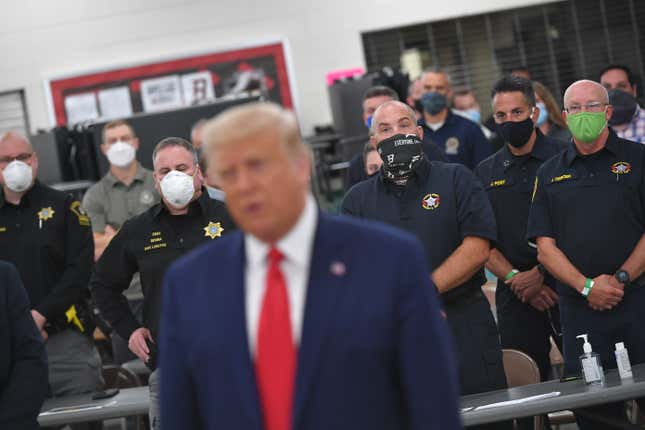 Regardless of my feelings about his politics, Donald Trump is a human first. A husband. A father. An uncle. An American. And today I am deeply saddened by the news that both he and his wife, Melania, have tested positive for COVID-19. Yes, he is an abhorrent person who has said and done terrible things. But I'm reminded, this morning, of the instructive words of Mark Twain: "Forgiveness is the fragrance that the violet sheds on the heel that has crushed it."

Fighting "Lie-abetes": How To Spot And Combat Disinformation and Conspiracies In Politics | The 411: Part 2
An investment in compassion for your fellow man—even those you may consider adversaries—is like planting an apple tree. And despite my feelings about him personally, I am poised to devour that sweet and delicious fruit. Perhaps, the President's predicament can be a healing moment for a nation in dire need of one.
I invite you, my neighbor, to eat apples with me. My door is open. My heart is bare. My bosom is AH FUCK I CAN'T DO THIS ANYMORE I AM OVER-FUCKING-JOYED LIKE STEVIE BUT IF STEVIE HAD LASIK I AM TICKLED AND GIDDY I THINK I SQUEALED THIS MORNING YOU KNOW HOW HAPPY A BLACK MAN MUST BE TO SQUEAL MY NIGGA I'M PIG HAPPY OUT THIS BITCH I CAN'T BELIEVE HE GOT THE THING HE SAID WASN'T A THING EVEN THOUGH HE KNEW IT WAS A THING BUT DIDN'T CARE ABOUT THE THING BECAUSE WE WERE THE ONES GETTING THE THING THE MOST AND NOW IT'S TWERKING ON HIS TONGUE CRIP WALKING IN HIS LUNGS THROWING GENDER REVEAL PARTIES ON HIS FUCKING FACE I FORGIVE HIM THE WAY THE BRIDE FORGAVE BILL THE WAY JOHN WICK FORGAVE THE NIGGA WHO KILLED HIS DOG THE WAY RENT-A-CENTER FORGAVE ME FOR THE DVD PLAYER I COPPED IN 2004 AND RETURNED TWO WEEKS LATE THEY STILL CALL ME ABOUT THAT SHIT TODAY BECAUSE THEY HAVE ELEPHANT MEMORIES!
But seriously, it's just not helpful to your spirit to find joy in the pain other people feel. It just cultivates a toxicity we're better than.
Michelle Obama isn't the only one to instruct us to go high when they go low. My parents, Wilbur and Vivienne Young, raised me to I'M SORRY I CAN'T DO THIS MY EYES ARE BURNING I'M WHEEZING I THINK I JUST SNORTED SHIT I THINK I JUST SQUIRTED WHEN PEOPLE SAY SHIT LIKE "I WOULDN'T WISH THAT BAD THING ON MY WORST ENEMY" I THINK THEY MUST NOT KNOW WHAT "ENEMY" MEANS THEY MUST HAVE A SPECIAL DICTIONARY WITH DIFFERENT DEFINITIONS OF ENEMY I'VE WISHED BAD CREDIT AND ERECTILE DYSFUNCTION ON NIGGAS WHO CAUSED ME MILD DISCOMFORT IN MIDDLE SCHOOL OF COURSE TODAY I FEEL NOTHING BUT GLEE AND VERVE AND DELIGHT I'M MOTHERFUCKING MIRTHFUL I FEEL LIKE FLYING A KITE LIKE SINGING IN THE RAIN LIKE SAYING THE PLEDGE OF ALLEGIANCE LIKE YODELING MY NIGGA YODEL-AY-EE-EEEE YODEL-AY-EE-OOO YODEL-AY-EE-EEEE YODEL-AY-EE-OOO!