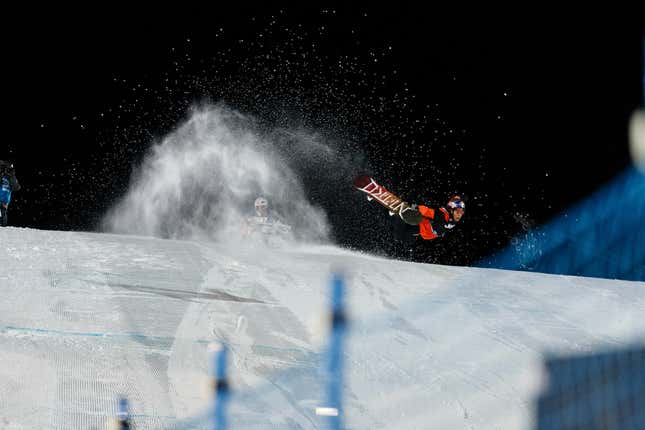 If you've never watched the X Games, this may be the year you want to tune in. I can already hear you asking why in the world you'd want to watch a bunch of people doing tricks on skis and skateboards, and I get it. But hear me out. This year, at ESPN's high-flying action sports competition, all eyes will be on two Black men who are literally changing the game. The Root spoke exclusively with host Selema Masekela and snowboarder Zeb Powell about how they fell in love with action sports and bringing other people of color along with them.

Selema Masekela is a TV host and commentator with decades of action sports journalism experience hosting the Red Bull Signature Series, Summer and Winter X Games, Vice World of Sports, and more. He also happens to be the son of the legendary jazz musician Hugh Masekela and the love of one Lupita Nyong'o – but that's not what we're talking about here.
Masekela is an action sports junkie and a lover of all things outdoors, despite often being the only person of color in the space. Growing up in New York and New England, his love for action sports started with skateboarding. But at 16, he discovered surfing when his family relocated to California. "I remember the first kid I told I wanted to learn how to surf was like, 'but you guys don't even swim.' And that really lit a fire underneath me," he said. "I did it, I took to it, and I fell deeply in love with it. There was this spiritual experience of being in the ocean, being free and being able to essentially catch a wave and dance on it."
From surfing, Masekela moved on to snowboarding, completing his action sports trifecta of skate, surf and snow, and it was when he knew he was hooked. "By the time I graduated high school, I was trying to figure out how to live this way and continue to stay close to these sports."
An internship at a skateboarding and snowboarding magazine taught Masekela about marketing and content creation and where he found his tribe. "I found likeminded people who also didn't want to get real jobs," he laughed."
He started covering action sports events for other networks until he eventually landed an opportunity at ESPN in 1999 as a snowboarding sideline reporter. "Now, somehow it's 2023 and I'm back at the party at the X Games," he said.
Masekela says he's that while he's excited to back at the big event, he can't wait to watch Zeb Powell, a 23-year-old professional snowboarder from Waynesville, North Carolina, who he describes as "a jazz musician on a snowboard."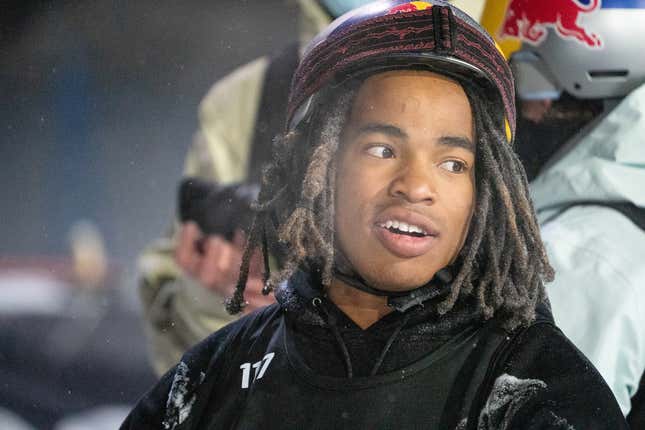 In 2020, Powell became the first Black snowboarder to win gold in X Games history. And this year, he's headed to Aspen to go for another gold in the Knuckle Huck, a high-flying snowboarding competition where athletes are judged on originality, difficulty, creativity, style, and trajectory.
Like Masekela, Powell started out as a skateboarder but got into snowboarding because most of his friends were doing it.
"My friend had a birthday party at the mountain and I couldn't go because I couldn't snowboard. All of my friends went up without me, and so I thought maybe I should learn how to do this since everyone else is doing it," he said. And once he got the hang of it, there was no turning back.
Powell says he's received lots of love from the community, but says he knows the same is not true for all Black athletes in the sport. And he says he's doing what he can to help open the door for other Blacks snowboarders. "The snowboarding part is easy. I just try to make sure I keep advocating, raising awareness and showing up to support people who need it," he said.
As he gets ready to go for gold this weekend, Powell says he's relying on his playlist, which includes artists like Tyler the Creator, SZA, Isaiah Rashad and Joey Bada$$ to get him pumped up to compete. "I love music, so I keep a speaker on me 24/7," he said.
These days, Masekela is sharing his love of action sports with the next generation and destroying the stereotype that people of color don't belong in the outdoors. He's the co-founder of Stoked, a mentoring program dedicated to giving kids opportunities through snowboarding, skateboarding and surfing. "We've seen incredible success in the type of people these kids choose after gaining access to these experiences and what it does for their confidence," he said.

And he adds that social media has allowed the world to see the moves Black people are making in action sports. "I get excited when I see groups like Black Girls Snowboard or the Black Surfers Association," he said.
"It tells people that not only are these spaces where we can play, they're spaces where we can thrive and sit in the full power of our Blackness. Because when step into something and take to it, it's a wrap. We redefine what's possible in the space."
You can watch Zeb Powell compete in Knuckle Huck on Sunday, January 29 starting at 6:30pm ET on ESPN.