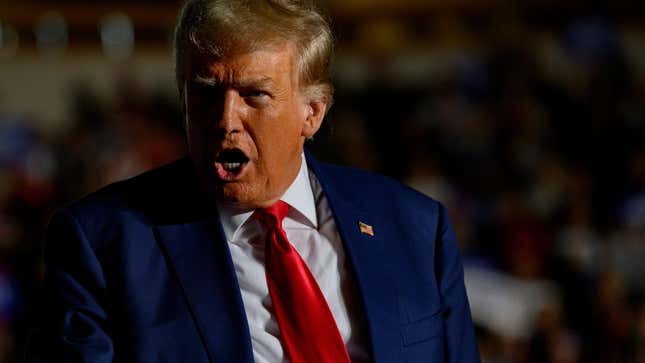 The fundraising organizations supporting Donald Trump's re-election bid are spending cash as fast as his backers can make donations, according to a new report.

Campaign disclosures filed with the Federal Election Commission on Monday show that the now-indicted (multiple times) former president's mounting legal bills are costing his fundraising committees lots of cash. Trump's Save America joint fundraising committee raised $53.9 million in the first half of this year, more than any of his GOP opponents. But $52.3 million of that has already been spent—and that ain't the worst of it. That committee has had to move money over to Trump's Save America leadership PAC (yes they have the same name but different functions) which had more than $100 million in cash at the beginning of the year, but only $3.6 million now.
Can Donald Trump Serve As President From Prison?
The reason: Lots of the cash has been used to pay millions in legal bills for Trump, his aides and his associates, according to reporting by the Washington Post:
Trump's legal entanglements are putting a considerable strain on his war chest, which has been bolstered by scores of small-dollar donors across the country — many of whom share his view that he is being persecuted by his political opponents. A portion of the money raised by the Trump campaign's joint fundraising committee goes to the Save America leadership PAC. Earlier this year, Trump's advisers upped the percentage of each contribution that is directed to the leadership PAC, giving them a greater ability to pay bills.

Recently, the Save America leadership PAC wanted its money back on a significant contribution the group had already made to another Trump PAC. Monday filings showed that Trump's super PAC, Make America Great Again Inc., reported that it had raised over $13 million during the first six months of 2023.

The group also reported it had about $30 million in cash on hand at the conclusion of the reporting period. However, Make America Great Again Inc. refunded $12.2 million to the Save America leadership PAC. This information was reflected on the mid-year report. Despite the lack of funds, Save America PAC did still manage to pay for Melania Trump's stylist.
Florida Governor Ron DeSantis, the renowned bigot who is vying for the Republican presidential nomination, currently has a super PAC that is leading in outside groups in cash on hand.