Barry Jenkins sure knows how to illustrate the fuck out of love.

Following the critical success of Moonlight, the much-anticipated James Baldwin adaptation whispered into our ears with teaser trailers full of rich colors. Based on the 1974 novel of the same name, If Beale Street Could Talk follows Tish Rivers (KiKi Layne) as she explores love with Alonzo "Fonny" Hunt (Stephan James), and has her world shaken when her soulmate is accused of sexual assault despite a firm alibi. Directed and written by Oscar winner Barry Jenkins, Beale Street is an ode to Harlem, love, and family.
*Warning*: Spoilers Ahead
With an intentionally select filmography under his belt, Jenkins has proven himself to be a true auteur. Taking some of his Moonlight family along for the ride in soundtrack, cinematography and editing, it becomes clear when a film has the Jenkins touch.
James Lixton's rich cinematography shines once again through the smoke-filled frames of artist Fonny working on his sculpture and the patented Laxton-Jenkins shots where you truly get to see black characters in full. You can't help but look them in the eye because they are the key focus of the shot. With a beautiful break through the fourth wall, you not only see through the characters, but the characters see through you. You see them; you feel them. And by an exquisite chance, you are them.
"I'm always trying to find a way to place you in the body, in the soul, of the piece of work," Jenkins said at a New York screening of the film.
G/O Media may get a commission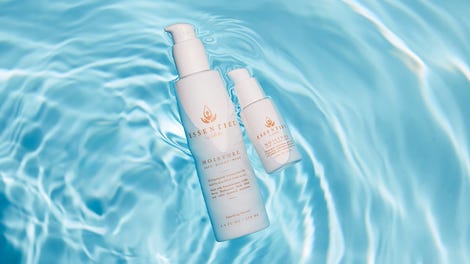 20% off
Essentiel by Adele
In her feature screen debut, Layne enamors the audience in a way that not only makes it easy to fall in love with Fonny the way she has, but to simultaneously fall in love with her—and with them, as their love has been marinating since they were mere children. Her narration is not only exposition, but a warm embrace as she guides you into her world and heart.
Pulling straight from Baldwin's words and overall literary tone, the film floats in a poetic motion, through both dialogue and visuals. Nicholas Brittell's hauntingly stunning score compliments both Tish and Fonny's love story and the gritty romanticism of Harlem.
The supporting cast is striking, showing off their best work in an early climactic moment between families, as their very structures erupt when Tish reveals she is pregnant, culminating in what Out Magazine's Tre'Vell Anderson and Barry Jenkins have lovingly dubbed "the blackest scene in cinema."

"I think when white people make their films, they don't think about us," mused Jenkins at a New York screening, reflecting on his Oscar-winning film Moonlight. "And that's totally fine. Because when Stanley Kubrick made 2001 [: A Space Odyssey], he was just making 2001, but if some kid in Harlem, and Liberty City, and Watts watches 2001, he's going to be transported in this way and he should be transported. Now, the problem is, some suburban kid in the middle-of-nowhere Kansas [or] Iowa doesn't get the same opportunity to be transported into my life. Doesn't get the same opportunity to be transported into Chiron's life. But, when we make these films, it's not about giving him the opportunity, it's not about making it for him, but it's there and I have no problem with him coming into the auditorium, sitting down and experiencing it."
The constant and criminally underrated Aunjanue Ellis steals the show as the pious Mrs. Hunt, whose rebuking storm is literally slapped out of her by Michael Beach's Frank Hunt. Colman Domingo's character is the steadfastly supportive Joseph Rivers, whose devotion to his wife and daughters is keenly felt. Teyonah Parris portrays the wonderfully snarky Ernestine Rivers, who utters some of my favorite lines in the film, likening Tish's career as a department store perfume girl to that of a "Louisiana whore," but later demanding that she "unbow [her] head" once her pregnancy was revealed.
Regina King is the unwavering Sharon Rivers, whose loyalty to Fonny's case arguably rivals Tish's as she travels to Puerto Rico to confront accuser Victoria Rogers (Emily Rios) in a zenith exchange reminiscent of Viola Davis and Meryl Streep in Doubt.
Fonny and Daniel (Brian Tyree Henry) excel in one particular 12-minute-sequence, perfectly encapsulated when the "Hey bruh, how you doing?"/ I'm good" dance comes to a sobering halt and black men are given the rare space to admit they're actually not good.
"That scene was kind of revolutionary, where you get to see two black brothers lean on each other and show a different kind of black love," James said during a National Association of Black Journalists - Los Angeles chapter screening.
Smothered by a cloud of vulnerability kissed with Miles Davis' Blue in Green, the scene transitions to a rumble of the score previously heard during Tish and Fonny's first love scene. It is with that score choice by tag team partners Jenkins and Brittell that we see true intimacy between two black men—a sparse sip that left me longing with thirst, yet full, all the same.
This year has been a masterclass in acting versatility for Henry, bouncing from Atlanta to Widows to Spider-Man: Into the Spider Verse and beyond. Henry is, after all, a true thespian, having studied at the Yale School of Drama.
Finally, I cannot mention If Beale Street Could Talk without touching upon its relevancy. Jenkins intentionally decided to stay true to Baldwin's work and keep the film's setting in 1974, but he made a point to note how true its story is to today's society. Both he and lead actor James have said the psychology of Fonny's character is inspired by Kalief Browder, whose stark tragedy within the faulty justice system has been etched in our veins.
"Because Mr. [James] Baldwin was speaking so much truth, many of these problems still persist, and I think that right now, in order to make a change — in order to have real progress — we need to look into some of these darker places and actually address some of these issues," Jenkins noted during a conference call organized and moderated by CEO, author and media commentator Joshua DuBois. "It remains very relevant to today."
When Fonny early on expresses his desire to "build a great big table" for Tish and their future family, it serves as unexpected foreshadowing of the final scene. Surely, the state-property table is not the one he had in mind, but it is a communing, all the same. As the film concludes with its open-ended coda, the assembly of evoked emotions is visceral. It is real.
Jenkins put it best: If Beale Street Could Talk is "aggressively black." It is aggressively black love, pain, sorrow, laughter... it is aggressively black humanity. And if that famed Beale Street could talk, it would thank Jenkins for said aggression.