Whenever Andrew Caldwell speaks, I'm left with the feeling that the inside of his head is full of the lyrics from Janet Jackson's "Miss You Much" coupled with the images of various, floating penises. I know, I know: When someone tells you who they are, believe them. However, as the colored court jester of gay conversation therapy, I am confident when I say that motherfucker is lying.

For one, suppression in this instance is nothing more than voluntary choice not to act on natural urges. To not act on said urges does not mean you are cured of them. No-no-no-no-no; it just means that one believes closed mouths will be fed at heaven's buffet if they decide not to engage in what they have been conned into believing are unnatural sexual eruptions. Cute for you, but that ain't a cure.

Two, for someone who is so "delivert" from his sinful ways, Caldwell sure has a lot to say about another man's alleged sexuality. Back in October 2015, Caldwell appeared on radio and claimed to have had sex with Kordell Stewart while he was still married to The Real Housewives of Atlanta's Porsha Williams (then Porsha Stewart). Caldwell has never walked back those allegations, so now Stewart is suing him for $4.5 million.

Stewart has been subjected to gay rumors from varying sources over time, and his ex-wife hasn't exactly helped quell speculation. I don't know if Kordell Stewart is gay, but I do recall him being a creepy, controlling asshole on RHOA. Regardless of what he is or isn't, considering Caldwell's habit of lying like hell, I wouldn't be surprised if the only contact he has ever had with Stewart was during a RHOA marathon in which he masturbated and assumed that they's married now.

In fact, he literally said as much when he apologized to Stewart for lying in 2015. He also claimed to have had a girlfriend, bless his heart. What blind woman in desperate need of avoiding immigration would marry that man?

Still, Stewart is suing him, and based on Caldwell's rep, he, like y'all's dumb-ass president with his wiretapping accusation, is stubbornly sticking his feet into the foolishness. Yes, I wonder why he has a rep, too. Like, what does he do that requires a rep?

G/O Media may get a commission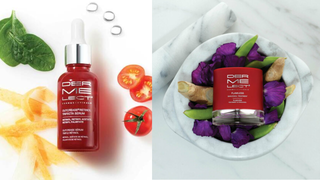 Save $19
Retinol Renewal Kit
The rep told the site The Jasmine Brand:

Mr. Caldwell has not been served any documents referenced in the Daily Mail article dated Feb. 24, 2017. However, should he be properly served by a court with jurisdiction, he welcomes the opportunity to detail, under oath, his sexual encounter with Mr. Stewart. This is not the first time Mr. Stewart has desperately sought media attention by professing his heterosexuality, nor the first time he's threatened a lawsuit against Mr. Caldwell. Mr. Caldwell will aggressively defend himself in a court proceeding should that be warranted. Until then, he is very excited about his new ventures and will focus on his new website, his designer T-shirt line and launching his YouTube channel.
The man "famous" for declaring that he is no longer a big ol' homosexual has a designer T-shirt line. What will the shirts say? "Who gon' slurp it, boo?" Or: "Bottoming for Jesus." Like, I really want to know what made him decide to sell T-shirts.
And Jesus, launching a YouTube channel? It takes a smooth couple of seconds to launch a YouTube channel. It only takes a few minutes to upload a video, and that's even when you're stealing someone's Wi-Fi. What is this man talking about?
What we have in this sexually confused and very much troubled young man is a remix of the tried-and-true thot plan to success. You know, where one claims to have hopped on famous dick and proceeds to ride to at least a Flat Tummy Tea endorsement deal and ideally a spot on Basketball Wives. (Season God, why isn't this show over already?) Here, it's highly unlikely that Andrew Caldwell has met Kordell Stewart, but that clearly doesn't matter with respect to headlines.
This sort of reminds me of the trans woman who was itching to expose Tyga by way of allegations that those two have had sex. I may think that Tyga should have been tackled by Olivia Benson for dating Kylie Jenner as a minor, but much as with this story, I'm not amused by coming up by way of cum. Moreover, what I hate even more is that in these cases, they are capitalizing off of stigmas related to the sexuality of gay men and trans women.

It's embarrassing. It's unhelpful. It trivializes our lives and bodies in ways that we don't need. Damn, Moonlight just got an Oscar. Can we live before being taken back to Love & Hip Hop: Car Wash on MLK Blvd.?

In sum, they and all those like them are trash. I hate when people make me feel defensive of folks I'd trip into a tar pit, but I hate thirst buckets of this variety even more.

Andrew Caldwell doesn't strike me as the tightest-wrapped burrito. He may very well be getting taken advantage of by some opportunists who need to go dig up a trade, community college course, poll or stroll. Whatever the case, if anyone actually cares about him, they need to go find him some help and some dick.

Most of all, they need to shut up about him and Kordell Stewart, disconnect his internet and, since he loves the Lord, get him a praying grandmother who doesn't act like Kim Burrell's hateful, Ursula-the-Sea-Witch-of-Gospel-acting ass.