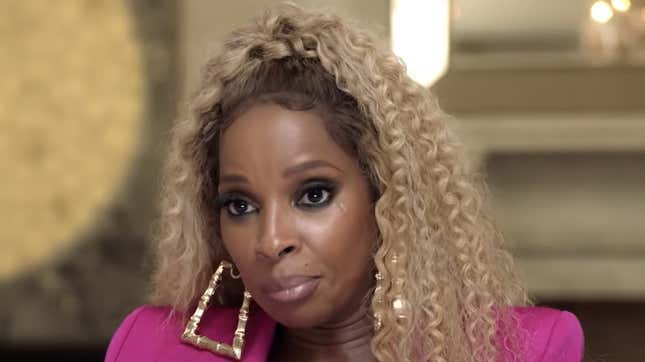 Many Mary J. Blige fans (including myself) often consider Blige's catalogue at its highest when she's singing about pain—mostly because many of us can relate. Granted, I was a smooth ten years old when her beloved second studio album My Life was released, but I sang the heart-wrenching songs like a woman who'd lived, though I obviously hadn't yet. The point is, I can relate in hindsight—leave me alone!!
Making Love Songs: The Story Behind Dionne Warwick's "I Say A Little Prayer"
Behind the artistry, however, is a real person with real feelings who went through real things. In Amazon Prime Video's documentary Mary J. Blige's My Life—which is currently streaming—Blige reflected on the significance of the 1994 album.

"This was, like, a turning point. This was a decision I had to make to either live or die. Most of the times, I was just depressed and didn't want to live because I didn't love myself," the 50-year-old "Queen of Hip-Hop Soul" recalled.

The success of the album was also pretty overwhelming for the R&B singer, who noted she wasn't able to fully enjoy it.

"So I'm scared to death of myself," she said. "So [I'll do] whatever it takes for me to be comfortable—if I need to drink some more, if I need to do some more coke, whatever I need to do to loosen up and try to take this in."

In the doc, Blige also touches on substance abuse and her abusive relationship with K-Ci Hailey of Jodeci.

Blige has been on a press tour for her documentary, recently appearing on The Breakfast Club, where she offered her thoughts on the many hypothetical discussions regarding her possible participation in an upcoming Verzuz battle.
"I don't know what a Verzuz would do for me, I'm ME," Blige noted, which was truly some Queen shit.

Now if you don't mind, I'll be prepping a nice glass of wine (or several) and some snacks to watch Mary J. Blige's My Life today!