I've been plenty mad before in life. For instance, last night while watching Scandal, I felt myself saying "what in THE fuck?" is happening here and in my life way more than I intended to. Shonda Rhimes trolled the shit out of everybody last night. I needed a cigarette and had to listen to Rage Against The Machine after it was all said and done. It felt - to me, at least - like some indy filmmaker attempting to get his break onto the small screen commandeered the writing room and the directorial chair and shot a mini-movie that was equal parts Inception, Inside Man,  Guess Who's Coming To Dinner, and every terrorist plotline of the past 14 years. It was like Taken minus Liam Neeson. Yet.
This made me upset. You know what else made me upset? When I didn't get my motherfuckin' chicken sandwich at Checkers because they gave me a fish sandwich instead. I didn't want no fish sandwich. I wanted a chicken sandwich? Do you know I know this? And by this I mean that I didn't want no fish sandwich? I didn't order no fish sandwich. I ordered chicken. That also pissed me off. Same as the ending of Unbreakable, Straight Outta Brooklyn, and War Of The Worlds and the ending of Oz.
All of those things upset me.
But none of those things upset me enough to want to follow them and run them over with my car. But I'm not Suge Knight. I haven't lived that man's life nor walked a mile in his shoes. Grant Hill may or may not still drink Sprite, but it's 1993 again in these streets because Suge Knight is out here making news headlines for nefarious reasons.
Apparently, while on the set of the NWA biopic, Straight Outta Compton, set for an August released (!!!!!!!), Suge got into an argument or altercation with two men. Two men who were both over the age of 50, mind you. Then again, they were 1) in Compton and 2) considering the individuals these folks run with probably all ex-"somebody" in the life of crime individuals. Judging books by covers I haven't seen? Why, yes I am.
So there's a good chance that some of these niggas got old beefs or what-have-you. Suge Knight seems like the type to have beefs with any and everybody he's ever met. But I ain't one to gossip so you ain't heard that from me. Anyway, ALLEGEDLY, Suge and the two gentleman get into an altercation and Suge gets in his car. The two fellows head to get something to eat and motherfucking Suge FOLLOWS them (pre-mediated much?) to a burger spot where he proceeds to hit them with his car THEN back BACK over another of them, effectively killing him.

The confrontation began about 3 p.m. Thursday when Knight and two unidentified men began arguing on the set of "Straight Outta Compton," a biopic about the group N.W.A., said Capt. John Corina of the Sheriff's Department's detectives unit.

About 20 minutes after the alleged argument, the victims were at Tam's Burgers near Central and East Rosecrans avenues, authorities said. Knight is believed to have followed the men in his truck and run them over in the parking lot, Corina said.

Witnesses said the truck hit the men, then backed over them before leaving the scene.

One of the victims, 55, died, and the other, 51, suffered undisclosed injuries, Corina said. At least one of the victims was a member of the film crew, he said.

Blatt said his client was being attacked by a group of men, and, while trying to get away from his attackers, accidentally ran over the victims.
G/O Media may get a commission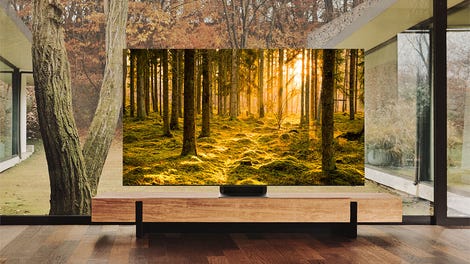 Up to 40% off
Samsung Smart TVs
Nigga. You do NOT accidentally run over a person the second time. You MIGHT accidentally hit somebody trying to get away in a fearful fashion. But driving BACKWARDS over them AFTER you hit them going forward. Naw, b.
But, do you know who does stuff like that? (Well, aside from the obvious answer of Suge Knight.) Niggas who ain't afraid of jail. In fact, you almost have to LIKE jail to do something like that. You're Suge Knight. You think the police AIN'T gon' find out it was you? You're already PROBABLY on the way back to jail for something else (he is). The only person who seems to like jail more than Suge is…who?…let's say it together.
GUCCI!
Burr.
Also, think about this. Do you know just HOW personal running a motherfucker over is? Like pre-meditatedly? You want people to suffer. I've seen people get hit by cars before. On accident. I've never seen somebody hit somebody then back up over them to make sure the job was done. That doesn't even sound like a money beef. That sounds like family beef gone terribly awry. That's that Kane fucked the hoodrat, with the Jimi on extra tight but got her pregnant anyway and her cousin who got Jada Pinkett's little brother killed in Set It Off AND raped Ebony in Player's Club done came back blasting type shit. That's that "its worth it to go to jail shit". I'm not bult like that. Then again, I've also never been THAT pissed. Like I feel like Suge said a one point, "I'm going to kill you motherfuckers" to them and they just didn't believe him. And yet, here we are.
Do not piss off Suge Knight. Then again, my guess is you can probably say what you want at this point, he should probably not ever come home ever again.
Then again, because it's Suge Knight, he turned himself into the police…smoking a cigar.
Suge Knight, ladies and gentlemen.