As you all are aware, a few weeks back, Damon and I had the opportunity to sit down and do some VSB-style interviewing of Key & Peele (see here and here). This is not something that we sought out, but rather the reverse; we were asked specifically to come out to Los Angeles, meet the fellas, and we were given the opportunity to "interview" them, but in a creative and original fashion to use as promotion on our own site.
Anybody who is in this here writing game will tell you that when certain opportunities presents themselves you take them. This was one of those opportunities that we were more than happy to be apart of, even if it did require us to fly into LA on a Tuesday (we did not have the club going up that day) and fly back out on a Wednesday. That turn around coupled with the time difference, how would Rakim say, ain't no joke.
One of the most interesting parts of our trip was that we were given the opportunity to be on set as they filmed one of their sketches for the current season (though airing later on in the season). We saw how much work truly goes into even one minute and 45 second sketch. It was hilarious each time. And by each time, I mean all at least 10 times they reshot the scene. During that time we got to sit back with the folks who were tied to the guys in various form and talked to some assistants, some folks from Comedy Central, etc. We spent a few minutes talking to Keegan-Michael Key about just how much of a fuck up Jameis Winston really is, or how much money he's trying to lose with his antics. This happened right as the news of him standing on a table in a cafeteria and making his lewd comments broke.
Funny stuff, bruh. Funny stuff.
Anyway, they wrapped up the first sketch then went to prepare for their second shoot of the day which was a sketch that included Mekhi Phifer (yeah, we also saw and dapped up Mekhi Phifer) and scenes from a police station. The language was colorful and definitely racialized.
G/O Media may get a commission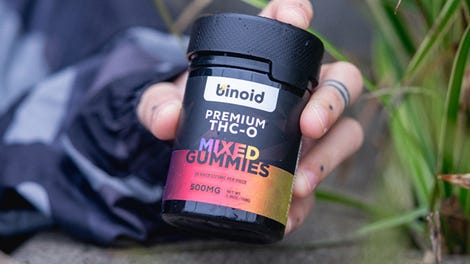 25% Off + Free Shipping
Binoid THC-O Gummies
Funny stuff, bruh. Funny stuff.
Everybody was laughing as they rehearsed this sketch and made some on the fly changes.
Then it hit me. Again, this is super racialized material, but there were maybe - aside from us there in a promo capacity clearly to reach out to Black people - maybe 2 Black people involved. There were at least 20 non-Black (read: white people) standing around laughing at, not with, these three Black men making sketches of a racial nature. These were the people producing and gaffing and doing things that folks with jobs in LA do when they're standing around watching the talent act out the sketches they're acting out.
I couldn't quite put my finger on it, but something just felt…odd. I definitely felt some kind of way about seeing all of these people tied into a product that in truth, they couldn't truly fathom or understand. Hell, they likely couldn't care less about understanding it; they just want it to be funny. And it was. They laughed. As I listened to that laughter I had one of those, "what are they really laughing at?" moments that Dave Chappelle spoke of when he addressed giving up that $50 million dollar pay day.
Clearly it was a palpable feeling because Damon had the exact same epiphany that I had at the exact same time. Now, if memory serves correct, we both agreed that it might not be $50 million dollars uncomfortable, but neither of us is rich either and we did have to acknowledge that we felt it. It was real.
I've never been on the set of a television show before and I'm assuming that in Hollywood, this is probably the makeup of most sets and crews. You have a ton of white people doing various jobs to make sure the show reaches its completion. And I'm also sure its been like this for as long as the industry has existed. In fact, that's part of the argument about Blaxploitation movies - and why they're called that to begin with - you had a bunch of white people creating these movies about Black people as some of the most ridiculous archetypes possible. They also became iconic so I have no idea if we won or lost there. I do know that The Mack is one of my favorite movies of all time. So there's that.
Also, I presume things were like this for In Living Color as well, a sketch show that specialized in some very uncomfortable, racialized humor at times. But (and assuming its true) perhaps for the Wayans brothers, and Keenan in particular, the bigger goal was more important than who was laughing behind the scenes and why. Maybe the bigger picture is what's most important. If I was in the position that those before me resided, I'm sure I'd have to ask those same questions and I'm also sure I'd deal with those issues similarly.
And the fact is, if you want to rumble with the bee, then you gon' have to work with the hive. I'm not sure if that analogy worked that well but whatevs. For Dave Chappelle, he decided that it didn't work for him and sent a lot of people, including his best friend, a white guy named Neal Brennan, packing. It got to him. And in those few brief moments where I had the opportunity to witness the behind the scenes action, I understood.
Not sure if I'd forfeit that money. As T.I. explains, if it ain't about the money, don't be hittin' me up I ain't finna do….well you get the point.
But I saw it. I see it. I get it.
Now, about that $50 mill.