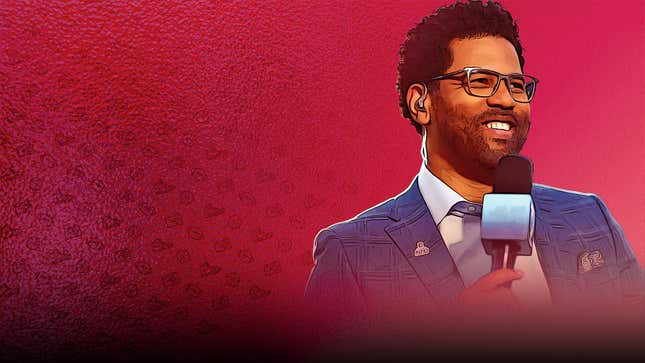 Awwww, yes. The sweet taste of victory.

Wins hit different when they come from the home team, and on Thursday, my homeboy Michael Smith—of ESPN (His & Hers, Sportscenter) Peacock (Brother From Another), and Amazon (Thursday Night Football) fame—unveiled the launch of his magnum opus: the Inflection Podcast Network.

"Dip The Pen In Your Own Blood": How To Find Success As An Author | Securing the Bag: Part 2
Considering all that he's accomplished in his prestigious career as a media personality, critically acclaimed sports commentator, and first-ballot Light Skin Hall of Famer, his pivot to launching his own podcast network shouldn't exactly come as a surprise. That being said, as someone who's had countless conversations with him throughout the years, what surprised me is how excited he sounds about his latest endeavor.

"Finding a partner at iHeart that believed that I can be the face of a network and put together a content slate is incredible," he told The Root. "I haven't been this excited about anything in my entire career."

So what exactly is the Inflection Network?

Co-founded by Smith and veteran entertainment attorney Terrence Williams, the Inflection Network (or I.N. if you're nasty) "will develop and produce original audio content" and "provide a platform for personalities whose perspectives shape compelling conversation around sports, society and culture." And with iHeartMedia's vast distribution channels and marketing resources at its disposal, it sounds (literally) like the Inflection Network has all the ingredients in place to become the next big thing.

To that end, the first show to premiere on the network is fan favorite Comeback Stories, hosted by New York Giants tight end Darren Waller and mental health/mindfulness coach Donny Starkins. In its third season, the podcast will continue to deliver "real-life tales of resiliency" and "interviews with guests whose stories illustrate a broad spectrum of 'comeback' stories."
Did I mention how excited Michael Smith is about all of this?
"I'll definitely reflect on this journey and just be in gratitude all week. Really," he said. "This is probably the most significant week in my career if for no other reason than I'm declaring it as so."
Word.

And considering everything he's faced just to get to this point—including being sentenced to 18 months of "pretty much professional purgatory" prior to his ESPN buyout in 2019—this victory lap is both well-earned and much-deserved.
Welcome back where you belong, big homie.