That reception was in a few hours, and I was in a rush. I had just showered, sprayed perfume and was ready to slip into my sheer pantyhose. The phone rang as I opened the package. An advertisement on an insert inside caught my eye, but I was about to disregard it and throw it away like a candy bar wrapper.
Perhaps because I was on the phone and distracted, I actually took out the insert and read the directions, which gave step-by-step instructions for a breast self-exam. I stood before the mirror, and pressed my fingers around the contours of my chest.
I felt something. It was a lump, and when I told my friend, she said, "Oh please, girl, I had a cyst, too." I wasn't prepared for what came next. In fact, I thought the doctor was joking. 
In April 1997, three months and two ob/gyn physicians later, I was diagnosed with breast cancer. I was 34 years old, worked out regularly and had been a vegetarian for 12 years. It wasn't until much later that I found out that cancer ran through my family like wildfire—it just wasn't something we discussed in the open.
At first, I wanted to ignore the diagnosis and pretend that nothing had changed. But I knew, deep down, that ignoring it would mean I would eventually lose control over my life. I decided to commit myself to living. I endured the mental and physical agony of surgery, chemotherapy and radiation.
G/O Media may get a commission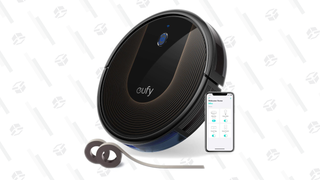 48% Off
Eufy BoostIQ RoboVac
My surgeon recommended that I join a support group to help me recover and regain my sense of balance. I went. The experience was not comforting, to say the least. I was the youngest person in the room and one of only two African-American women. I was in a room with mainly white women in their 60s. I stood out. I felt uncomfortable, alone and hopeless.
It was that way until I found "Rise, Sister, Rise," a breast cancer support group of women of my race, my age, with my interests, and outlook on life. I identified with these women. We sang "Little Sally Walker" at the beginning of each meeting. We had experienced the same frustrations and the same hope. We were going through the same chemotherapy and radiation treatments. We could relate to each other. We laughed, cried, hugged and sang with each other and to each other. 
I never let the disease control my life. While statistics say we are less likely than white women to get cancer, we die at higher rates. Late diagnosis and lack of preemptive health care are part of the reason. But we also know that black women are also diagnosed much earlier in life than white women and that our tumors are much more aggressive.
Still, optimism prevails. With each passing day, researchers are making strides to fight cancer more effectively. Earlier this year, a number of celebrities joined the Stand Up to Cancer campaign, and via a nationally broadcast TV special, raised $100 million toward research. It is important that some of those dollars consider the effects of cancer in minority communities.
Ultimately, the decision to be healthy is up to the individual. I've learned that paying attention to details is everything. I made it to the reception that night a nervous wreck. But now I can say that my cancer is in remission and that I will be at my daughter's next birthday party.
Karin L. Stanford is an associate professor of political science at California State University, Northridge.