As someone who's spent her entire working life in the fashion and music industries (over two decades and ongoing), it remains challenging for me to think of Sean Combs as anything but "Puffy." You see, as a Gen-Xer, I remember well his evolution from upstart promoter to music exec to entertainment juggernaut...while unfortunately, my mind only evolved to "Diddy."
Sean "Love" Combs? I simply can't.
But for Diddy's decades of success in entertainment, less discussed is his impact upon fashion. As the mogul turned 50 this week, Vogue commemorated the occasion with another anniversary: It's been 20 years since "Puffy Takes Paris," the October 1999 editorial by Annie Leibovitz that paired the artist formerly known as "Puff Daddy" with supermodel Kate Moss for a French Fashion-Week-themed pictorial. As Vogue notes, it was "the height of the '90s 'bad boy' phenomenon," and Puffy was its CEO, chief brand ambassador and one of its cultural catalysts. But as he now reveals while dropping a series of reflective gems for the magazine, the bad boy wasn't too cool to be completely in awe of the experience of posing for Vogue.
The inspiration of fashion [viewed] through hip-hop culture becoming mainstream globally on fashion's biggest runways and in fashion's biggest magazine. I understood that. I knew something big was going on; I wasn't jaded. I'm not going to lie: I was like a schoolgirl. I was so happy to be involved. I was like, 'There are no men in Vogue, [but] I'm in Vogue.' I felt pretty.
It was a watershed moment, cementing the kinship between the two cultures. While rock-and-roll and fashion had long been linked, as Diddy recalls, hip-hop's invitation into the industry it so often inspired was a moment of validation.
[Back then] there was no one in the front rows. We weren't invited to anything, and if you were black and you were hip-hop, it was dangerous. I think going out there as a statesman and letting them know, 'We cool; we're artists too.' We're the same thing [as] jazz artists or rock-and-roll artists, or punk artists. We're just a different type of artist, and I was able to see that and feel that energy.
G/O Media may get a commission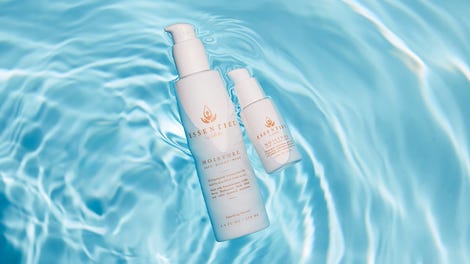 20% off
Essentiel by Adele
Of course, in the decades since, any number of hip-hop artists and acolytes have become synonymous with fashion—as both ambassadors and designers. But as Puffy now claims his place in that still-growing chain of power and influence, even he admits to a sense of imposter syndrome as he entered the uncharted and historically Eurocentric territory of the likes of Vogue.
"We didn't know it was going to go this far, to be honest. As far as Virgil [Abloh], Edward [Enninful, editor-in-chief of British Vogue]. We didn't imagine Kanye [West] or Pharrell [Williams] at the time. I was standing on the shoulders of Russell Simmons...just trying to represent and get in the game. Coming from Harlem, your style is everything; you can't compromise on your style. So, I didn't compromise; I was going to be straight to the point. They would feel the confidence...It was unapologetically black and unapologetically hip-hop in Vogue. That's that."
Along with Diddy's 50th birthday, this week also marked the second year in a row that an African American designer (Christopher John Rogers) won the coveted CFDA/Vogue Fashion Fund award. But as Diddy reminds us, he was actually the first; a prototype-breaking pioneer who set a precedent for a more diverse pool of talent to follow.
I was the first African American to win the CFDA award, and then my senior designers, Dao-Yi Chow and Maxwell Osborne—the team that worked with me on Sean John—they were able to go and win one of their own. Then when it came down to what Supreme was doing, and how Virgil was able to go and take that opportunity and really fly and be brave and fearless.
Twenty years later, how does hip-hop's original bad boy-turned-elder statesman now sum up his legacy in fashion?
I would say that my legacy is for all black designers. Diversity is essential, but black designers have a hard time, and we're the most fashionable people on planet earth...I see the trickle-down effect, and that was the intention, going with the goal of breaking down the doors for other people."