Twelve years before I released my debut album from prison, I was a baggy-jeaned middle schooler, rapping about how to get there.
In the early 2000s, hip-hop was still under the spell of hypermasculine gangsta rap, and I emulated its heroes. Unfortunately, the "zero tolerance," heavily policed Los Angeles school district only reinforced my narrative. As a 12-year-old, you could catch me quoting Tupac.
As he said, "I always knew one day I'd go to jail."
That year, I was put in handcuffs for the first time. The charges? "Slap boxing," or play fighting. The next year, I was detained for being truant. Then for a false vandalism allegation. Then for speaking over a school police officer. The officer was so offended, I was choked and threatened with mace before the cuffs came out. At the time, I was not committing any serious crimes, though I did smoke weed and hang out with gang members. My infatuation with the streets was only beginning, and "zero tolerance" was their aphrodisiac.
I followed my street dreams all the way to prison. It's the inevitable conclusion to our societal fantasy that says further alienating the alienated will somehow produce better citizens. This is what's missing from our national discussion about prisons. Sending people who act out harmfully in the community miles away from anyone invested in their growth to a place full of other harmful people under the guise that it will make them more responsible is ridiculous. The fact is, we are spending billions of dollars a year on vengeance instead of safety. What most people call "justice" is really just revenge. And it's expensive, not to mention often carried out more harshly against people of color.
As I'd stare out my small window into the barbed-wired, artificially lit desert nights, I developed a wrenching hunger to engage the culture on these issues. I studied vehemently from books and articles my partner sent me and those circulated around the prison's underground network. I read The New Jim Crow twice and copied all the statistics out of it during a five-month lockdown. I read articles by Robin D.G. Kelley and reviews of the "Operation Ghetto Storm" report by the Malcolm X Grassroots Movement, which found in 2012 that police and vigilantes killed a black person every 28 hours.
G/O Media may get a commission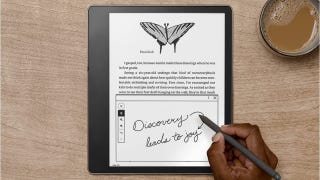 Releases November 30
Borrowing the display from the much-beloved Paperwhite, this screen provides a glare-free experience both indoors and outdoors so you can read by the pool or on the beach on a sunny day. New to this model is the inclusion of a pen. Take notes directly on the pages as you might in a traditional book, but the notes are automatically organized by title in a single place–letting you review and export them with ease.
The more I learned, the deeper it stung that these issues were ignored in popular discourse and media. My thirst to cry out to the world became unbearable. Then it happened.
On Oct. 3, 2013, Miriam Carey, a black woman, was driving, jumped the curb and hit the White House fence. She immediately reversed back into the road and tried to drive away. The police surrounded her car, shot through her window and killed her. Her 1-year-old daughter was in the backseat.
I watched the fatal shooting, mouth agape, through a breaking-news report that interrupted my favorite soap opera during a lockdown. It appeared that the only reason it broke news was that the network suspected it was a terrorist attack, given that she had hit the White House fence. As soon as the smoke cleared and all that was left was a dead black body, with no sign of a terrorist plot, the network, and America, went back to business as usual. But I couldn't stop crying.
I saw this for what it was. Another Tyisha Miller. Another Tanisha Williams. I pulled out my articles and the list of names of people killed by state-sponsored violence I had been collecting. (The list was short because of scarce media coverage of this issue pre-Ferguson.) I began to write, with hot tears in my eyes, what would become my first single, "28 Hours."
That day, I decided that debating my relatives through letters wasn't enough. I was going to drop "28 Hours." In fact, I was going to drop a whole damn album from prison. Though I began rapping when I was 8, I hadn't written much during my first two years of incarceration. I was in a sort of creative depression. But the pain of that moment snapped me out of it. For my sake and the sake of my generation, I had to release this record—Forgotten but Not Gone.
Forgotten but Not Gone is not just about the 2.2 million of us who feel personally forgotten by a broken process; it is a warning cry to the next generation. The album recognizes that the students at Mizzou and the gangs of Los Angeles face the same challenges, having the conversation in a way only hip-hop can. Like all rap, this album is about swag. But in the street-smart swag of FBNG, not only do we get fly and rep where we're from, but we also talk about mass incarceration. We talk about patriarchy and state violence. We're not afraid to say #BlackLivesMatter. These conversations are critical to our identity because they're critical to our survival.
As providence had it, in a few weeks I'd be visited by my partner, Taina Vargas-Edmond; my mentors, Patrisse Cullors and Mark-Anthony Johnson; and our friends, musician Rey Fukuda and Damon Turner. It was in this brilliant circle that the production of Forgotten but Not Gone was discussed and solidified. Taina and Damon would collect my old music from studios and hard drives around Los Angeles. Then Damon, along with his team, G.R.E.E.D.Y. City—a lifestyle, marketing and entertainment platform committed to partnering with social movements—would edit new verses I spit over the prison's phone onto my old songs and beats. It took over a year and a half of work, but we finished.           
Finally, on my 24th birthday, in October 2015, G.R.E.E.D.Y. City and #BlackLivesMatter gave Forgotten but Not Gone to the world. When the prison's top security force raided my cell, interrogating me about how I accomplished it—I knew I'd made it!
"I know I'm in trouble," I told them, "but this is awesome!"
Richie Reseda is an artist, activist, entrepreneur and founder of the prison-based organization Success Stories, an organization dedicated to rehabilitating prisoners to prevent them from sliding back into gang life when they leave prison. Reseda is also the founder and creative director of the media platform Question Culture, which uses technology, art, culture, fashion and popular-media outlets to challenge the patriarchal systems embedded in the world today.