A Henrico County, Va., McDonald's says it has taken "appropriate action" after the wife of a Virginia Conservation police officer claimed that he was denied service because of his uniform.

"At our restaurants, we are dedicated to serving all of our customers, including all authority figures who protect our wildlife and natural resources," the McDonald's owner-operator Freda Thornton told WTVR. "We regret this situation as it goes against our standards of providing a welcoming experience to everyone, and we have taken the appropriate action to resolve this situation."
Thornton didn't say what action was taken against the employee who apparently refused to give the officer his order and said, "I ain't serving no police."
As WTVR notes, the incident unfolded last Thursday night, according to a Facebook post by the officer's wife.
The Richmond Times-Dispatch identifies the officer in question as Scott Naff, a 25-year law-enforcement veteran, and his wife as Cathy Naff.
G/O Media may get a commission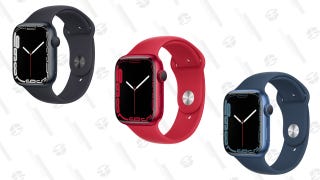 Up To $45 Off
Apple Watch Series 7
"He was in uniform and [in] his police vehicle. He paid for his food and drove forward to the next window," Cathy Naff wrote on Facebook. "The young man who was working that window looked at him and backed away from the window mouthing something to my husband."
She said that her husband could not hear because the drive-thru window was closed.
"The guy finally walked to the window and slid it open," she continued. "The guy said, 'I ain't serving no police' and closed the window. The guy proceeded to tell everyone in McDonald's, including the manager, that he was not going to serve the police."
Another worker eventually had to give the officer his meal.
According to WTVR, the post has been shared and commented on thousands of times since Naff wrote her original post.
"This is such an eye opener for me as to what the people who protect us have to go through on a daily basis," she wrote. "Please pray for the men and women who serve and protect us and put their lives on the line for us each and every day."
The Times-Dispatch notes that when asked if McDonald's actions were satisfactory in handling the situation, Cathy Naff said that there was no satisfaction in seeing someone lose their job, and added that the issue could have been prevented through proper customer training practices.
"This situation is about how a law-enforcement officer was treated by an employee of a local establishment who should have been trained by their employer and properly supervised on how to treat their customers," she said. "My husband is one of the great guys and would have never treated this young man disrespectfully."
Read more at WTVR and the Richmond Times-Dispatch.