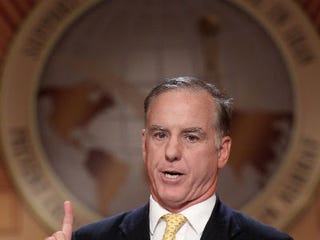 "I think the President's team has been rather brilliant in putting this one together," said former DNC Chair Howard Dean, speaking about the American Jobs Act with Lawrence O'Donnell last night, sounding confident and convinced that the bill puts sufficient pressure on Republicans to get passed. "It would be hard to devise a better bill than this to put these guys on the griddle," he said. "They're in big trouble" . . .
"All they have done is obstruct for four years," he said, chiding who he calls "the do-nothing Republicans" planning to stop the bill. "People love a fighter, and they do not like what the Republicans stand for and who they stand for," he says, hoping that this might be Obama's Harry Truman moment.
Source: Mediaite.
Visit msnbc.com for breaking news, world news, and news about the economy
Read more at Mediaite.
In other news: Did African Politicians Finance French Elections?