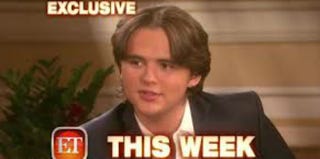 For this musical heir, long gone are the days of being hidden from the public eye and made to wear masks in public. Prince Jackson, the 16-year-old son of Michael Jackson, has put himself in front of the camera, and it sounds as if he intends to stay there. The aspiring actor, producer and director has landed a special correspondent gig with Entertainment Tonight, the Huffington Post reports. His first interviews are with James Franco, Zach Braff and Sam Raimi, of the upcoming Oz the Great and Powerful.
We're not sure how Michael, who seemed to make his children's privacy a priority, would feel about this move. But the younger Jackson assured ET that he had the maturity to handle the new job and its accompanying public scrutiny. "That was all thanks to my dad," he said. "He raised me right."
Read more at the Huffington Post.